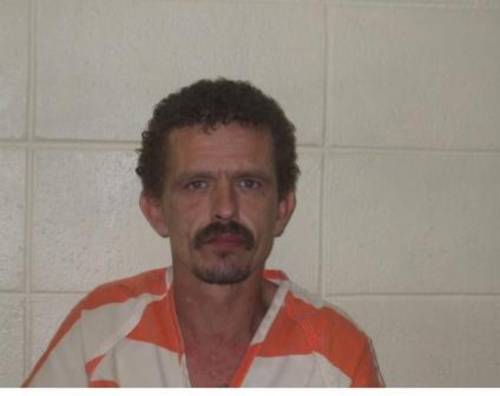 (Bobby R. Waddle booking photo, has since shaved his head)
The investigation into the escape from custody at the Livingston County Jail on the evening of July 04, 2012 continues at this time. We have additional staff on duty gathering information and following leads on the whereabouts of Bobby R. Waddle.
Last evening about 9:40 the detention officer on duty had taken the male detainees from one cell area out to the security recreation yard for outdoor exercise. Detainees Tony D. Dawson and Bobby R. Waddle were able to get out of the view of the detention officer and quickly forced open the sally port door thereby permitting their escape. The jail video shows the two men exiting out of the sally port from under the security door. The men then ran north in the alley and abandoned most or all of their jail uniforms and then fled north east on foot. The detention officer quickly reported the finding to dispatch and the response and investigation quickly escalated and continued through the night.
A search of the detainee's cells revealed a handwritten note allegedly from one of the escapees to the jail staff which is filled with profanity and infers a planned intent to escape from custody. Fortunately at this time no one has been injured during this incident.
(Law Enforcement has received recent information of a possible sighting of Bobby R. Waddle in the Brookfield/Linn County area. Investigation continues at this time.)
This morning about 1:00 a.m., officers found Tony D. Dawson hiding at a residence in the 200 block of Clay Street in Chillicothe and he was taken into custody without further incident. Due to that portion of the investigation we are submitting information to Livingston County Prosecuting Attorney Adam Warren for consideration of additional charges of 1st Degree Burglary in addition to Escape From Custody against Mr. Dawson.
In April 2012, ago we found the sally port security door was not functioning properly as it would occasionally not open or close completely. We had this examined and serviced at that time and staff has not noticed any malfunctions with the system since.
This investigation shows the sally port security door was manually opened by the escapees, which is not how it is designed to function. The system is designed to be closed and secure until opened from a control function in the dispatch office.
The Livingston County Jail is a 48 bed facility and was opened in 1978 and the Sally Port Door and Security System are original equipment. We are now exploring options for repair or replacement.
This marks the first escape from custody at the Livingston County Jail since Sheriff Cox took office on January 01, 2001. The most recent escape from custody prior to that date is believed to be about May of 1993 at which time a male detainee escaped through the same sally port door which had mistakenly been left open.