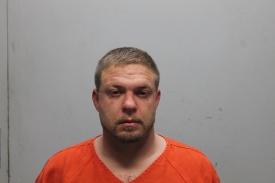 (Shaun Allen Mindham booking photo)
February 27, 2020 late afternoon Livingston County Sheriff's Office (LCSO) was aware Missouri State Highway Patrol Trooper in at least Caldwell County was attempting to stop a motorcycle with two occupants on U.S. 36 and the motorcycle was running at speeds up to at least 130 MPH in a 65 MPH. MSHP later terminated their attempt to stop the vehicle but the trooper had given excellent information as to the description.
The motorcycle operator must have pulled off onto gravel road(s) and stayed off U.S. 36 for some time. That evening around 7:36 p.m. Chief Deputy Michael Claypole was on U.S. 36 in western Livingston County and saw a motorcycle matching the suspect vehicle description traveling east on U.S. 36 near LIV 419 at 84 in a 65 with two occupants. Chief Deputy described the driver seemed to want to flee from him and saw the motorcycle driver cut between 2 semi-tractor/trailers causing one of the semi drivers to brake hard and take evasive action. Other semis on the highway were yielding to our law enforcement vehicle which caused the motorcycle to actually have to yield and was able to get the driver to stop.
Further investigation shows the MSHP Trooper identified this motorcycle as the same one which had fled him earlier in Caldwell County. The driver was identified as Shaun Allen Mindham, 35, Blue Springs and was also the owner of the motorcycle. Additional investigation showed Mr. Mindham had outstanding arrest warrant from Johnson County for alleged class D felony Possession of Controlled Substance, class E felony Resisting Arrest-Creating Substantial Risk of Injury/Death and Driving While Suspended/Revoked-1st offense.
K-9 Zaki alerted to the odor of drug(s) around the motorcycle and officers seized an estimated 12 grams of methamphetamine and 3 grams of black tar heroin.
Mr. Mindham was arrested for the alleged drug violations in Livingston County and has since been charged by Prosecuting Attorney Adam Warren for alleged 2 counts class D felony Possession of Controlled Substance. Mr. Mindham remains in the Daviess Dekalb Regional Jail in lieu of $10,000 bond.
The passenger was identified as Jennifer Joy Jett, 32, Belton, MO and she was arrested on warrant(s) from Jackson County for alleged Failure to Appear in Court-Felony Drug Violation and Possession of Drug Paraphernalia. Ms. Jett was taken to DDRJ pending extradition by Jackson County Sheriff.
LCSO also seized Mr. Mindham's 2019 Yamaha and Livingston County Prosecuting Attorney Adam Warren has filed case #20LV-CC00008 in Livingston County Circuit Court seeking forfeiture on the vehicle.
Investigation shows both suspects were reportedly traveling to Marceline Missouri. Potential additional charge(s) in Caldwell County and/or Livingston County may be pending. Great work by all involved and fortunately no one was injured!
Sheriff Steve Cox
NOTE: All persons are innocent unless and until proven guilty in a Court of Law. An arrest and/or arrest warrant and incarceration is merely an allegation and nothing more.