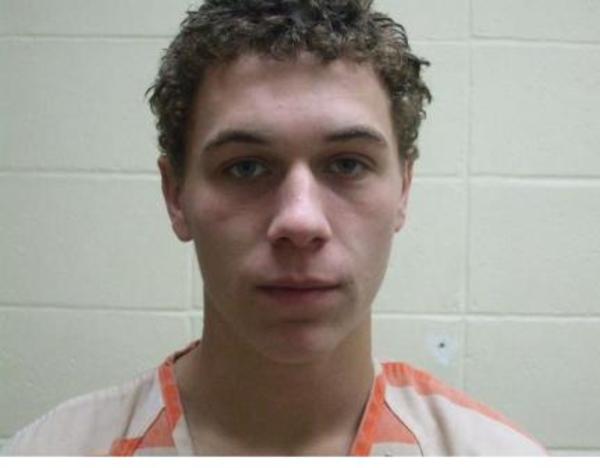 Zachary Laffey booking photo
Today we served a Livingston County arrest warrant on Zachery Alan Laffey, 18, Chillicothe for alleged Violation of a judges Order on original charge of Theft/Stealing of Any Firearm. Bond was set at $25,000 cash. Deputy Mike Lewis reported Mr. Laffey was allegedly be in possession of what Mr. Laffey described as "K-2" at the time of warrant service and we also arrested him for that alleged violation. Investigation reports are being submitted to Livingston County Prosecuting Attorney Adam Warren for consideration of additional charge(s).
---
The Livingston County Sheriff's Office is seeking information from the public regarding a broken grave marker recently recovered. The information on the white granite stone is Isaac N. Ryan, born 1814, died 1857.
---
On October 29, Sheriff Cox conducted a Sheriffs Sale on a Livingston County Court order involving the sale of a home in Chillicothe. Last week Chief Deputy Jim Lightner conducted a similar sale as the sheriff was required to be in Jefferson City with the Department of Public Safety.
---
Last week we transported 3 men to the Missouri Department of Corrections in St. Joseph:
Brandon Lee Williams, 38, homeless, Failure to Register as a Sex Offender
Michael Ray Prewitt, 45, Ludlow, Parole warrant
Michael Sanders, 23, Return on Writ
---
On October 19, a deputy was on Highway 190 and checked a vehicle traveling east at 80 in a 55. The driver was identified as a 43 year old Pattonsburg resident who reported being called in to a local nursing home for an emergency as a patient was near death. The deputy called the nursing home and learned this was not accurate; although the person was an employee at that facility there was not any patient emergency and the person was not actually a nurse. The deputy transported the driver to the Livingston County Sheriff's Office where she received citations for the alleged violations of speeding and no valid driver's license prior to release.
--- Landie England booking photo
On October 24, we arrested Landie England, 19, on a Livingston County arrest warrant for alleged Distribution of a Controlled Substance near a Park/School. Bond was initially placed at $50,000.
---
We are currently investigating a burglary and theft of certain tools and a shotgun from a location in the southern part of Livingston County. The investigation is continuing and some of the items may have been identified at an area pawn shop.
---
Last week the LCSO had a Poll Question on our website of "Many health insurance companies and Medicaid/Medicare do not pay if the insured is incarcerated, which often places the costs on local tax payers. Should health care for detainees in our county jail be free or should we hold them accountable for their medical care debts?" After a week of responses the tally showed 9.5% marked "Yes to free health care for detainees". A whopping 90.5% marked that "No, we should hold them accountable".
---
We currently have 37 people incarcerated in the Livingston County Jail, 10 of which are female detainees.
---
Last week our detention staff underwent annual training on inmate medical care, procedures and protocols.
---
Our staff has remained very busy working these and other criminal investigations and assisting other agencies.
---
Please keep in mind that all persons are innocent unless and until proven guilty in a Court of law.