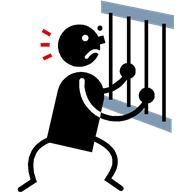 On Tuesday, Livingston County Circuit Court Judge Thomas Chapman sentenced Bryon Keith Pride, 51, Chillicothe, to 15 years in the Missouri Department of Corrections for his conviction on Child Molestation in 1st Degree. Mr. Pride was already registered on our website prior to this case.
---
We recently transported the following men to the Missouri Department of Corrections on new commitments or parole warrant:
Shawn William Dewald, 33, Gladstone for Possession of Controlled Substance.
Ryan David Grady, 22, Chillicothe on a Forgery conviction.
Bryon Keith Pride, 51, Chillicothe on conviction of Child Molestation 1st degree.
Wesley David Coke, 36, Linneus on conviction of Tampering with Motor Vehicle involved in stealing a Missouri State Highway Patrol Car.
Jason Edward Jones, 37, Chillicothe, on a Parole Violation warrant
---
We have concluded a dog bite investigation in Wheeling and issued a citation to a Wheeling resident for alleged Failure to Maintain Control of an animal which bit a person.
---
Deputies have concluded an investigation of possible child endangerment/neglect where the child was reported where drug abuse was reportedly taking place in the home. A search of the home resulted in the seizure of a small amount of alleged drug paraphernalia. Children's Division has been involved in this with us and evidence was sent to the Missouri State Highway Patrol Crime Lab. There was no evidence to support removing the children from the home. A report will be reviewed by the prosecuting attorney.
---
On January 16 we served a Buchanan County arrest warrant on Michael Kamren Lent, 23, Chillicothe for alleged Driving While Revoked. Mr. Lent posted bond and was released pending his next Court appearance.
---
On January 16 we investigated a death of an elderly man at his residence just east of Chillicothe. Family member(s) were at the residence with the elderly man passed away. We were assisted by the Livingston County Coroner's Office. Our thoughts and prayers remain with the family, friends, and loved ones.
---
A deputy on patrol in the North West part of the county on January 16 issued a citation to a 31 year old Jamesport resident for alleged driving while suspended and a license plate violation.
---
We currently have 25 detainees in custody at the Daviess Dekalb County Regional Jail, 6 of which are female detainees.
---
Anyone with information on these or other crimes are asked to call us at 660-646-0515.