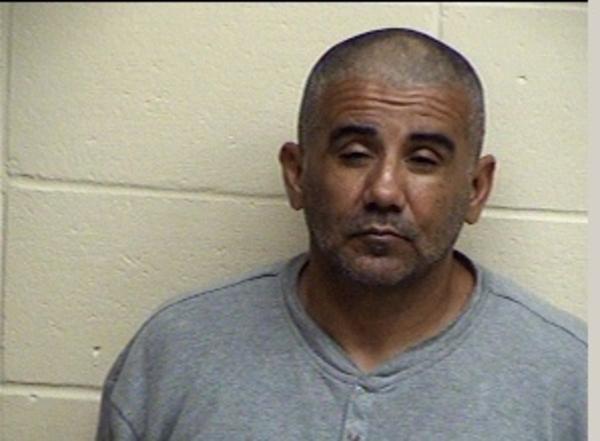 Moses Miranda 2012 Booking Photo
The Livingston County Sheriff's Office has been working with the sheriffs from Grundy County, Caldwell County, Daviess County, the Missouri State Highway Patrol, and the NITRO ATF Task Force on this and a variety of crimes in our areas.
Today officers from all the above agencies coordinated investigative efforts in rural western Livingston County resulting in the search of two homes. The suspect was found in the second home hiding behind a lot of trash and debris. The suspect was reportedly refusing to comply with the officer's repeated orders to comply and surrender so he was introduced to the Taser and then found his way into the loving arms of a state trooper and sheriff for handcuffing.
Moses Miranda, 46, Chillicothe, was arrested on a Livingston County arrest warrant for alleged Burglary 2nd degree which is reported to have recently taken place on Liv 408 near Mooresville, MO. Bond was set at $25,000 CASH. Mr. Miranda is reported to have outstanding warrants or pending charges in other Missouri Counties.
All agencies did an excellent job with this regional investigation and enforcement. Allegedly in some of the adjoining counties firearms and ammunition were stolen and there was significant concern that Mr. Miranda was fearful of being arrested again due to his past history in Missouri and/or other state(s). Allegedly Miranda fled from authorities in other counties over the last several days. Therefore the enforcement action here this afternoon included a helicopter from the Missouri State Highway Patrol and a bite dog from a law enforcement agency.
NITRO agents have been a leader in helping all of agencies coordinate over the numerous counties in north central and north east Missouri. There is considerable interest in seeking federal charges due to the numerous firearms allegedly stolen.
At least 2 additional persons are in custody in Grundy on their charges and we are seeking formal charges on those persons for their alleged involvement in the residential burglary in Mooresville.
Our staff is also working on potentially clearing other past burglaries in Livingston County where firearms and/or ammunition were stolen.
Fortunately no one was injured during this series of incidents and great work by all involved.