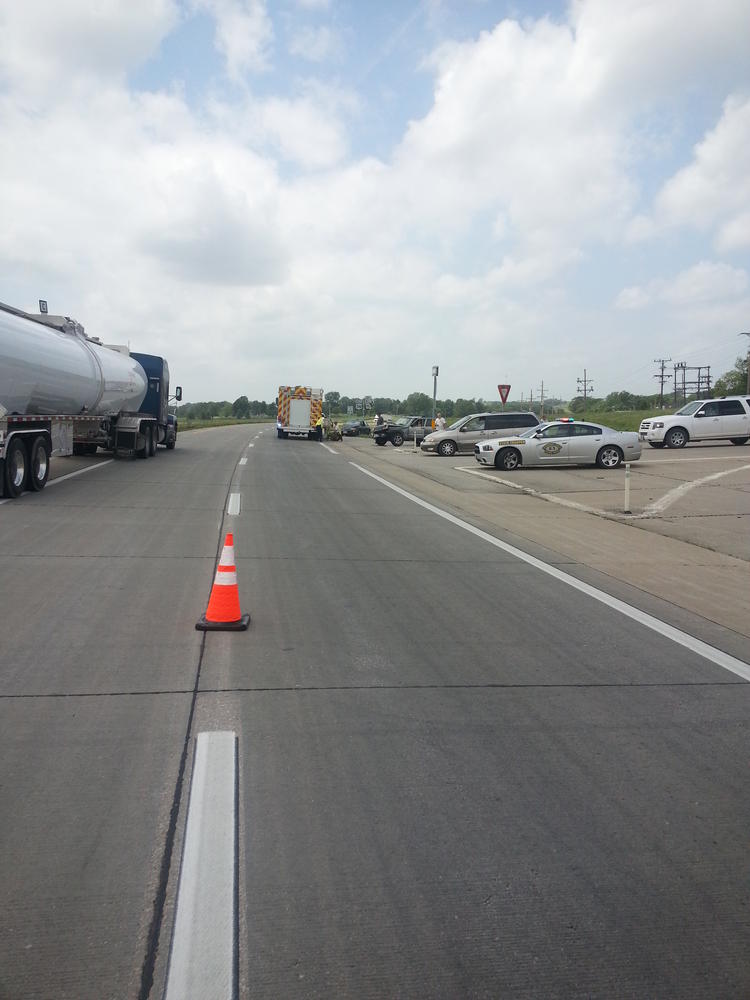 (U.S. 36 and Utica Jct. accident June 17)
Incidents:
The LCSO remains extremely busy with a variety of on-going criminal investigations. Our staff has been involved with our local crimes and working with other agencies and jurisdictions in attempting to clear many of our cases.
June 19 we completed an investigation of a reported simple assault and unwanted touching toward a female. All persons have been interviewed and a report is being submitted to the prosecuting attorney for consideration as the allegation lacks any additional evidence.
June 17 LCSO staff assisted the Missouri State Highway Patrol and Chillicothe Department of Emergency Services with a crash at the Utica Junction.
June 17 we began an investigation of alleged trespassing and property damage near 13000 block Liv 536. Unknown person(s) drove through a muddy bean field causing damage to the crops. Investigation continues.3
Around midnight on Sunday morning the LCSO and MSHP responded to a location north east of Chillicothe near Medicine Creek regarding a call of a possible altercation, accident and youth alcohol party. The officers reported that many people fled upon the group realizing law enforcement was present. The agencies spent approximately 3 hours on scene attempting to locate those in attendance, determine if anyone was injured, had been assaulted or in an accident, obtaining names of all present, administering PBT's (preliminary breath tests) where applicable, contacting parents and releasing young people to their parent(s) and collecting information/evidence for any necessary future criminal charge(s) such as supplying intoxicants to minors. One vehicle was towed from the roadway that had been left in a bad location and keys were not located to move it.
This week we completed an investigation of possible Peace Disturbance which allegedly recently took place near 2nd and Washington Streets. Not everyone would speak with the investigating deputy but a report is being submitted to the Prosecuting Attorney for review. Our office was requested to investigate this incident.
The officers noted most people were cooperative but not everyone was overly forthcoming with information as to who may have been involved. However additional investigations are continuing at this time.
Providing alcohol to or even hosting a youth alcohol party can get someone a significant amount of jail time for each minor consuming or in possession.
June 15 a deputy investigated damage to a vehicle on U.S. 36 as the passenger car struck debris in the roadway after a semi-tractor blew a tire. Damage was noted to the vehicle and the semi driver was contacted. A report made for insurance purposes.
June 10 we began an investigation of harassment. The victim reported receiving information about possible threat(s) from a known subject about a domestic matter. Information has been collected and report filed at the victims request at this time.
June 04 we completed a report of a Michigan man allegedly Obstructed Justice in Associate Court. The report is being submitted to the Prosecuting Attorney.
June 04 we investigated a report of Domestic Assault in Chula. Upon completion of the investigation a report was submitted to the prosecuting attorney for consideration of charges.
Arrests:
June 13 we served a Clay County civil arrest warrant on Daniel Wayne Phelps for alleged Contempt of Court. Mr. Phelps could not post the cash bond of $5,492.46 and was sent to Daviess Dekalb County Regional Jail to await extradition to Clay County.
June 13 we arrested Virgil Arthur Hurling, 46 on a probation/parole warrant. Mr. Hurling was incarcerated in DDCRJ in lieu of bond.
June 12 we served a Livingston County arrest warrant on Jeremy Eugene Reed, 25, Chillicothe for alleged class C felony Tampering with a Motor Vehicle. Mr. Reed posted bond at the LCSO and was released pending next Court appearance.
June 10 we arrested Kerina Lynette Rhoton, 18, Wheeling on a Livingston County warrant for alleged Probation Violation on original charge of felony Drug Possession. The Court set no bond on case # 13LV-CR00415-01. Ms. Rhoton was transferred to the DDCRJ.
June 07 a deputy arrested Jill Elizabeth Scott, 34, Chillicothe on a Grundy County warrant for alleged misdemeanor bad check violation. Ms. Scott was transferred to the custody of a Grundy County deputy.
June 06 we completed an investigation of alleged Hindering Prosecuting in a Felony case with serving a Livingston County arrest warrant on Kendra Natie Aumua, 26, Chillicothe for alleged class D felony Hindering Prosecution. This allegation is related to allegedly assisting Jeremy Orona flee the area during our search when Mr. Orona was a fugitive.
Other Information:
Currently we are holding 46 people in the Daviess Dekalb County Regional Jail.
We have scheduled and/or caused the following people to be transported to the Missouri Department of Corrections based on recent sentencing in Livingston County Circuit Court:
Kyle Lee Case, 25, Chillicothe Possession Controlled Substance 2 years consecutive
Eric Curtis Wells, 30, Chillicothe Receiving Stolen Property 2 years consecutive
Joshua Michael Weaver, 23, Hannibal Possession Controlled Substance 120 day CODS program
Corey Allen Hines, 27, Trenton Stealing 7 years consecutive
Flash Artorio Scott, 24, Kansas Forgery 3 years consecutive
Lacey Leanne Stith, 28, Chillicothe Possession Controlled Substance 5 years consecutive
Lacy Blue Merys-Reeves, 27, Cameron Forgery 120 day CODS program
Terra Lynnette Glasgow, 39, Chillicothe Possession Controlled Substance 120 day CODS program
Mariah Anna Mae Grant, 18, Chillicothe Possession Controlled Substance Institutional Post Conviction Drug Treatment Progam - DOC
Dallas Janae Garrison, 19, Chillicothe Possession Controlled Substance 4 years
Possession Controlled Substance 3 years consecutive to count 1