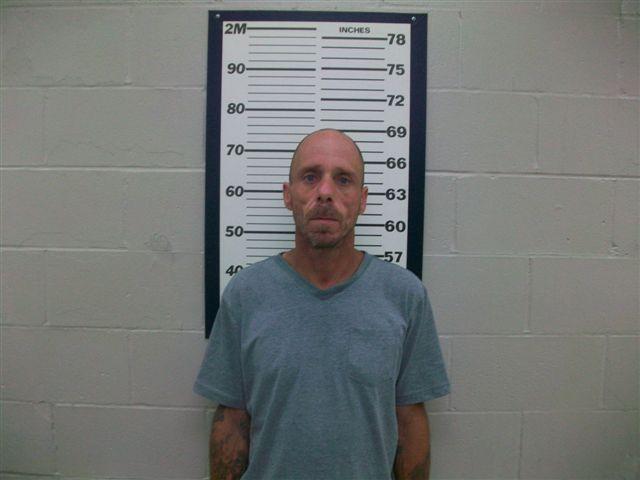 (Scott Keith Perschbacher)
Shortly after noon on Wednesday, Sheriff Cox had just pulled into the north side of Wal-Mart parking lot and reported see a white male carrying something while running away from the business with employee(s) following behind that appeared to be yelling at him.
The sheriff notified dispatch and saw the man run north and west onto private property and into a brushy area south of Green Street. The man was obviously attempting to hide from the employees and law enforcement. Chief Deputy Michael Claypole and CPD Officer Michael Smith quickly arrived and we established a perimeter around where the suspect was believed to be. Although the brushy area was about 50 yards long it was full of trees, thick vegetation, poison ivy, poison oak, brush piles and several logs and rocks.
The officers carefully searched the area and after several minutes of searching and recapping the route the man ran and last location the officers again searched the area. Chief Deputy Claypole summoned the other two officers to the south east end of the heavy brush as the deputy could only see a small piece of the suspect's belt as he was in a well hidden location. The man continued to remain still and refused to respond to authorities' directions to show his hands and/or comply with being arrested. After repeated commands and verbal notification the Taser was about to be deployed, the suspect finally complied and was arrested without further incident.
The sheriff then searched the area where the suspect had been hiding and found a new package of UNDERWEAR and what appeared to be a new ball cap hidden in the brush. The suspect also dropped a new pair of fingernail clippers when arrested.
Scott Keith Perschbacher, 48, Chillicothe was arrested for alleged Stealing and Resisting Arrest by Flight. Mr. Perschbacher is also currently on parole from the Missouri Department of Corrections. He also has since had his bond was revoked on a different and previous local charge. The CPD completed the investigation and the suspect is now in the Daviess Dekalb County Regional Jail.
We thank the employees at Wal-Mart for their quick and alert action in addition to continuing to monitor the business property which prevented the suspect from having access to other customers and vehicles in his attempt to escape.
Chief Deputy Claypole, Officer Michael Smith and Emergency Dispatchers Wanda Urton and Cindy Hanavan did an excellent job during this ordeal. It should be noted that dispatch and CPD also handled a car/motorcycle crash at the same time at the south junction.
The sheriff also reported Mr. Perschbacher must have been highly motivated to have hidden as well and for as long as he had. Reason being the suspect had been laying on top of a colony of red ants with hundreds of the insects that were less than happy Mr. Perschbacher had crushed their home.
(Note all persons are innocent unless and until proven guilty in a Court of law. An arrest or arrest warrant is merely an allegation.)