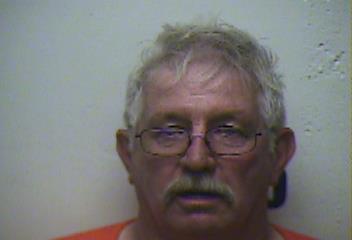 (Lawrence Edward Felton)
On Monday, August 18 the LCSO was charged with security at the Livingston County Courthouse for a jury trial. A deputy was staffing the metal detector on the first floor and additional staff were handling Court on the second and third floors.
Detective Eric Menconi reported that a male walked through the metal detector with his fists clinched and raised above his head when the metal detector alerted. The deputy then used the hand wand around the person's body and legs but the man still had his hands in the air so the smaller detector did not signal any metal. As the man began walking up the first flight of stairs Detective Menconi saw at least one knife in the man's hand.
The subject was allegedly uncooperative with our deputy and subsequently arrested for Trespassing. Deputy Cooksey went to assist Detective Menconi and the subject was reported to be refusing to submit to arrest and struggled with the deputies when they attempted to handcuff him. The subject allegedly told Deputy Cooksey he was going to cut off a certain part of the deputy's body. The subject also identified himself as "God" to the deputies.
A report was submitted to Prosecuting Attorney Adam Warren and Judge James P. Valbracht signed a warrant charging Lawrence Edward Felton, 65, with alleged Trespassing 1st Degree, Assault of a Law Enforcement Officer and Resisting Arrest. Bond was set at $5,000 on case # 14LV-CR00399.
Mr. Felton was allegedly going to see an employee which he reportedly has displayed anger and/or dislike toward in the past.
I believe the deputies did an excellent job with the integrity of the security at the Courthouse and in making this arrest.
Keep in mind that all persons are innocent unless and until proven guilty in a Court of Law. A mere arrest or arrest warrant is only an allegation.