February is nationally recognized as Teen Dating Violence Awareness and Prevention Month. During the month, people around the nation participate in activities that promote education and awareness about teen dating abuse. This is a crucial time to talk openly about healthy and unhealthy relationships, warning signs and what we can do to lessen the frequency of dating abuse.
Nearly 1.5 million high school students nationwide experience physical abuse from a dating partner in a single year.

One in three teens in the US is a victim of physical, emotional or verbal abuse from a dating partner, a figure that far exceeds rates of other types of youth violence.

One in ten high school students has been purposefully hit, slapped or physically hurt by a boyfriend or girlfriend.

One quarter of high school girls have been victims of physical or sexual abuse
Why do we spend a whole month talking about teen dating abuse?
According to the CDC, one in four teens will experience dating abuse during this coming year.
Fifty-two percent of college women know someone who has been the victim of dating abuse (including physical, sexual, verbal, controlling and even digital abuse) according to the Liz Claiborne Inc. 2011 College Dating Violence and Abuse Poll
If we know the signs of dating abuse, then we can recognize it when we, or a friend or family member, experiences it. If we feel comfortable talking about healthy relationships, then we will be empowered to be respectful partners and speak out when things aren't right. If we know what resources are available, then we can guide a friend or even ourselves to help if and when we need it.
Education, awareness and intervention are key to stopping dating abuse. February is a chance to increase all three.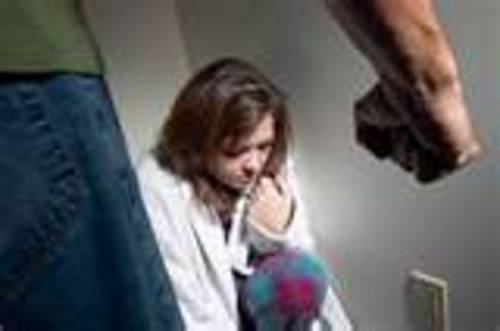 So how did teen dating violence get its own month? Teens have their own unique challenges when it comes to dating abuse.
Teens may not have very much dating experience and so they base their ideas of dating norms on pop-culture relationships which, as we all know, are rarely good examples. Most teens are attending the same school or live in the same area as their abusive partner which means that it's difficult for them to avoid seeing them (but not impossible… check out our post on How to Best Avoid an Abusive Ex). It's also difficult for teens to speak out about abusive relationships because they may feel reluctant to speak candidly with adults who they do not trust. For most teens, the first people they will turn to when they are being abused are their friends.
With all of these differences, it's no wonder teens get their own month.
In 2006, the national government officially recognized the first week in February as National Teen Dating Violence Awareness and Prevention Week. In 2010, Congress announced that the entire month of February would be deemed National Teen Dating Violence Awareness and Prevention Month.