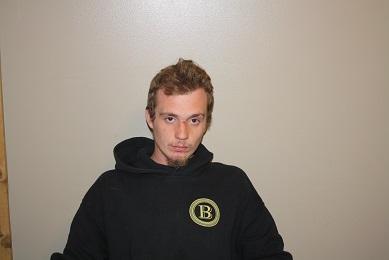 Milan John Bender arrest photo
About 9:00 p.m. on January 19 LCSO and MSHP officers responded to a location in Chula as a 911 caller reported someone trespassing on private property and attempting to steal a UTV. The homeowner had gone outside armed with a shotgun and gave commands to the suspected prowler. The owner reported the man was attempting to start his Polaris UTV and the owner discharged the shotgun twice in a safe direction while giving warnings to the suspect.
The suspect fled east and was picked up by another person. Investigation continued through the night and following day. During the afternoon of January 20, Deputy Sheriff Ryan Ford arrested Milan John Bender, 26, Chula. A Livingston County arrest warrant has since been issued for Mr. Bender for the alleged class D felony of Attempted Tampering with a Motor Vehicle in 1st Degree. Bond was originally set at $25,000 cash by the Court and Mr. Bender remains incarcerated in the Daviess Dekalb County Regional Jail in lieu of bond.
The deputies and troopers did a good job on this case. The victim provided a great deal of information and safely protected his family and property. Deputy Ford went beyond normal duty and did an outstanding job by diligently spending lengthy hours chasing leads and with collecting strong evidence and making the arrest in this case. Livingston County Prosecuting Attorney Adam Warren is prosecuting this case.