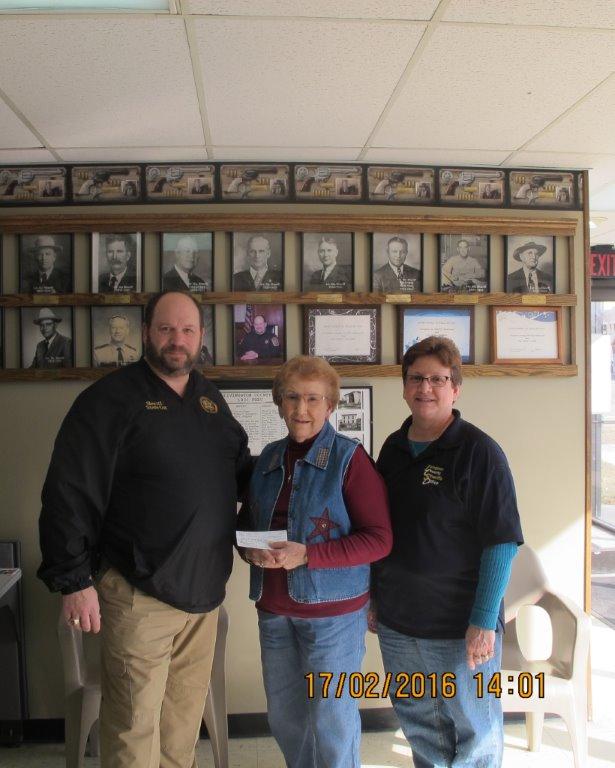 (Norma Constant and Dena Davis are pictured with Sheriff Cox)
On February 11, 2016 Ms. Norma Constant of Chillicothe was first to team up with the LCSO in donating $100 toward the sheriff's office goal for a K-9 program.
We have a strong need and desire to use a Drug and Patrol Trained Dog in and around Livingston County. The K-9 will be trained in drug detection and police patrol needs. The K-9 and assigned deputy will be available to assist all law enforcement and emergency responders in Chillicothe, Livingston County and north Missouri.
Ms. Constant is no stranger to the LCSO as her daughter Dena Davis is an administrative employee at the sheriff's office. Also Ms. Constant's late husband, Bud Constant, also worked closely with the LCSO in doing a significant amount of plumbing and construction work at the Livingston County Sheriff's Office and Jail for Sheriff Leland O'Dell, Sheriff Gary Calvert, and Sheriff Steve Cox. There were several times Norma Constant was right in there working with her husband repairing certain jail plumbing situations which are best described as "very challenging".
A special THANK YOU to Norma Constant for all her continued support and friendship with the Livingston County Sheriff's Office.