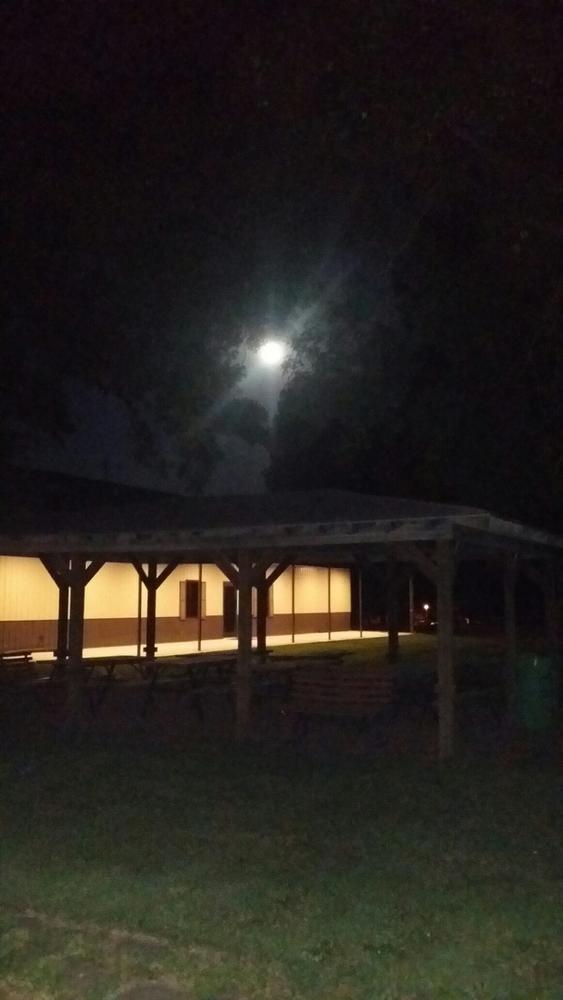 (photo courtesy Sheriff Steve Cox from 5:00 a.m. on 8-18-16 while in Wheeling City Park)
Incidents:
The LCSO recently began helping a local victim of a scam where a criminal claiming to be with U.S. Government Grants conned the citizen into believing they were being awarded several thousand dollars and needed to send a small amount of money to get this process started. The citizen described seriously needing the money being promised and fell into the fraudulent scheme. The citizen ended up obtaining $750 in iTunes cards from a local retailer and providing the card information to the criminal on the phone. Needless to say the cards are now of no value and the criminals continued to seek more and more money from the victim until they realized they had been scammed.
August 17 the LCSO investigated the most recent of many calls to the 1000 block of Highway 190 for disturbances. We have never obtained any information of illegal activity and the primary problem is verbal arguing. We have given information and guidance to these people each time and most recently gave 2 people a ride to the Community Resource Center in Chillicothe.
August 16 the LCSO has completed a drug and firearm crime investigation involving multiple prescription medications with allegations firearms violation(s). Investigation resulted in the seizure of controlled prescription medication(s), firearms, and ammunition. A report is being submitted to Livingston County Prosecuting Attorney Adam Warren for consideration of charges.
August 14 a deputy stopped a vehicle in Utica as the driver is allegedly revoked to drive in Missouri. Due to the history and number of violations the deputy arrested Jesse Jay Deshazier, 36, Utica for alleged felony Driving While Revoked. Mr. Deshazier was transferred to the Daviess Dekalb County Regional Jail pending formal charges being filed.
August 13 a deputy was summoned to the 1500 block of Fair in Chillicothe for back-up assistance requested by the Chillicothe Police. When no longer needed the deputy returned to normal duties.
August 12 citizen reported a Colt .357 caliber handgun as either lost or stolen. Investigation continues.
August 9 the LCSO responded to a residence in Utica for a disturbance. Investigation resulted in deputies arrested Brandon S. Mobely, 25, Utica for alleged Domestic Assault and Property Damage. Mr. Mobely was given specific directions and commands but chose to make a threatening comment to the officers and then allegedly physically resist being arrested. Mr. Mobely was transferred to Daviess Dekalb County Regional Jail pending formal charges being filed.
---
Arrests:
August 17 the LCSO served a Livingston County arrest warrant on Rachelle Lynn Griffith, 45, Chillicothe, for alleged Domestic Assault in 3rd Degree. Ms. Griffith appeared before Judge Valbracht and was sent to DDCRJ pending bond.
August 4 the LCSO served a probation violation warrant on Steven R. McCann, 30, Chillicothe. Mr. McCann was transferred to the Daviess Dekalb County Regional Jail.
---
Additional Information:
Recent Poll Question on the LCSO website asked "What does it take to re-open the Livingston County Jail?" 88.3% picked the correct answer of "All the Above" which includes Fixing the Plumbing, Update and Repair Equipment, Become Compliant with all Federal Requirements (PREA), Increase Detention Staff from the permitted 5 to a total of 15, Ability to Attract and Retain Detention Officers, and Additional Tax Revenues. You may view our website and participate in the periodic poll questions at www.livcoso.org.
August 18 the LCSO assisted the Chillicothe Police as they were tied up and could not attend Chillicothe Municipal Court. The sheriff and a deputy handled bailiff duty and metal detector security at the Courthouse until no longer needed.
August 17 the LCSO had 15 detainees in Court for mandatory appearance before Judge James P. Valbracht.
The LCSO has been very busy with on-going criminal investigations, school activities, calls on traffic complaints, and serving civil process for the Courts.
---
Citations:
August 19 the LCSO issued a CHS student a citation on Liv 228 for 54 in a 35.
August 17 a deputy issued a Colorado driver a speeding citation for 93 in a 65 on U.S. 36 and U.S. 65 after being dispatched on a call complaining of that vehicles driving.
August 15 a deputy issued a Kirksville driver a citation for 85 in a 65 on U.S. 36 and Liv 235.
August 11 a deputy issues a Fort Dodge Iowa man a citation for 97 in a 65 on U.S. 36 at Liv 408.
August 10 the LCSO issued a Henry Indiana driver a speeding citation for 79 in a 65 on U.S. 36 and Liv 255.
August 8 a deputy stopped a vehicle in Ludlow knowing the driver did not have a valid license and issued a citation for the same violation.
July 24 a deputy issued a Chillicothe man a citation for alleged Careless and Imprudent Driving.
If you have any information on these or other crimes, please call us at 660-646-0515 or dispatch at 660-646-2121.
Sheriff Steve Cox