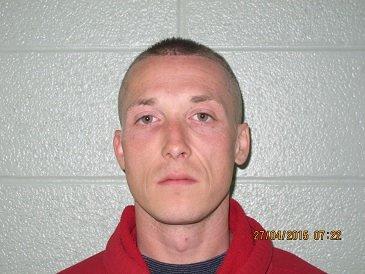 Steven L. Burns file photo.
The LCSO has been diligently working on a fugitive investigation where Steven L. Burns, 30, Utica was wanted on a Livingston County warrant for alleged Sex Offender Registry Violation-Probation Violation, warrant was dated September 29, 2016.
The LCSO and Probation and Parole recently searched a wooded area near Utica as a GPS tracker bracelet was activated in that area. Officers concluded Burns was no longer there but the GPS device had been removed.
Continuing with the investigation, last evening 2 deputies and 1 CPD officer went to a residence in the 200 block of East Bridge in Chillicothe and located Mr. Burns. Additional investigation continued at the otherwise unoccupied residence and seized methamphetamine drug paraphernalia with residue.
Mr. Burns was transferred to the Daviess Dekalb Regional Jail as bond was denied by the Court.
Sheriff Steve Cox
(Note: Everyone is innocent unless and until proven guilty in a Court of law, a warrant and arrest are merely allegations.)