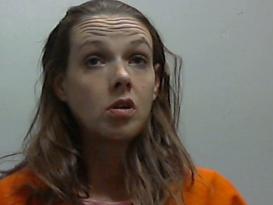 Amanda Burns
January 17, 2017 the LCSO responded to a call near Highways B and BB in north eastern Livingston County. A resident reported a pickup being stolen from their driveway and the male owner was now following his stolen pickup. The citizen stopped a female allegedly driving the stolen pickup after it stopped and held her until deputies arrived.
The Linn County Sheriff's Office assisted the Livingston County deputies and arrested Amanda L. Burns, 35, Meadville, MO. Once handcuffed, Ms. Burns allegedly found a way to remove the handcuffs while in the deputy's vehicle. Ms. Burns was again handcuffed and taken to the Chillicothe Police Department for further investigation and was observed attempting to remove her handcuff while at the CPD.
Ms. Burns remains incarcerated in the Daviess Dekalb County Regional Jail and now has a bond set at $25,000 for the alleged Tampering with a Motor Vehicle. Ms. Burns is reported to currently be on probation/parole for a Burglary conviction and information is being shared with the probation/parole office.
Information was shared with the Linn County Sheriff's Office as they are also working an investigation of a stolen vehicle in the western part of their county.
A very good job by the crime victim and the Linn and Livingston County deputies on this case.
Sheriff Steve Cox