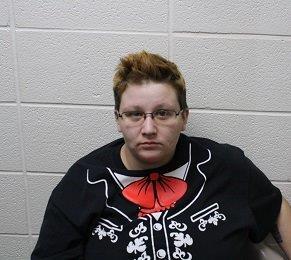 Tiffany Luttrell arrest photo @ LCSO
On Friday, March 10, 2017 the Livingston County Sheriff's Office (LCSO) completed a fugitive and sex offender registration violation investigation and arrested Tiffany Luttrell, 28, on a Daviess County arrest warrant for alleged Sex Offender Registration Violation. The LCSO also arrested Ms. Luttrell for alleged Failure to Register as a Sex Offender in Livingston County. It is alleged Ms. Luttrell moved to Livingston County and failed to register with the LCSO. Ms. Luttrell was arrested at a residence in close proximity to a public school in Chillicothe.
Ms. Luttrell was transferred to the custody of the Daviess County Sheriff and a report is being submitted to the prosecuting attorney for consideration of charges in Livingston County.
Ms. Luttrell is mandated by State and Federal law to register as a sex offender due to a 2008 conviction in Johnson County, Missouri of class D felony Sexual Misconduct/Attempt Involving a Child.
Sheriff Steve Cox