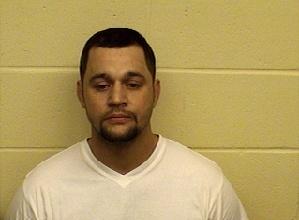 (jail file photo Brian V. Bowman)
July 24 the Livingston County Sheriff's Office (LCSO) received notice that Brian Vincent Bowman, 42, was arrested by police in Raytown, MO.
Mr. Bowman is wanted on Livingston County warrant for alleged PROBATION VIOLATION on original class D felony Resisting Arrest/Detention/Stop Creating Substantial Risk of Serious Injury/Death to Anyone. Bond was denied by the Court.
Mr. Bowman is more recently remembered as being the suspect who jumped off the Grand River Bridge to allegedly escape/avoid arrest by LCSO Detective Ryan Ford on April 29, 2017.
At the time of this press release it is unknown if Raytown authorities have any additional charges, otherwise Mr. Bowman will be extradited at the first opportunity.
Potential additional charges in Livingston County are pending.
Sheriff Steve Cox