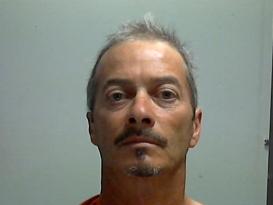 (photo of James R. Forbis)
May 10, 2017 the Livingston County Sheriff's Office (LCSO) and Missouri State Fire Marshall's Office were summoned to a location near Liv 510 and Liv 503 for a report of 2 improvised explosive devices with trip wires had detonated near the reporting person while driving a work truck.
The Missouri State Highway Patrol Bomb Squad was summoned to the scene by the Fire Marshall's Office to assist with the investigation. The bomb squad investigation has concluded there were no explosives or explosive devices present.
Respecting the need of public safety the matter was initially shared with the media in attempt to raise awareness and gain any leads.
July 20 the Missouri Fire Marshall's Office again interviewed the reporting person and ultimately arrested James Robert Forbis, 53, Chillicothe for alleged Making A False Bomb Report. Mr. Forbis has since been charged in Livingston County Associate Court and was incarcerated in the Daviess Dekalb County Regional Jail in lieu of $2,500 bond.
Sheriff Steve Cox
(reminder that all persons are innocent unless and until proven guilty in a Court of law.)