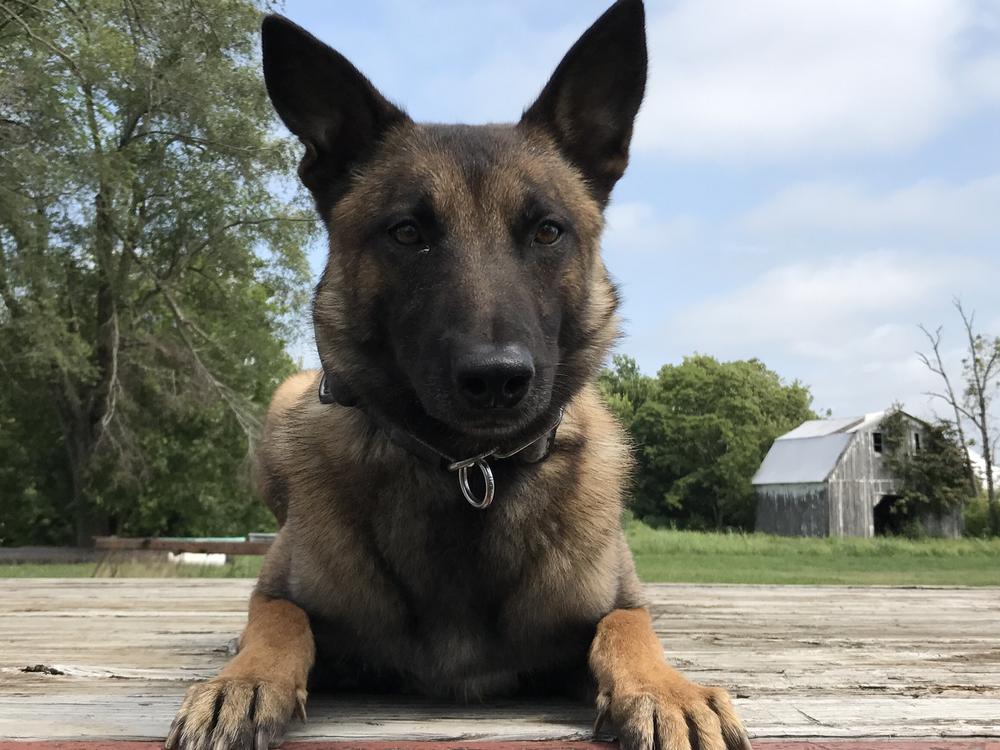 Deputy Zaki
Livingston County Sheriff's Office K9 Zaki will receive a bullet and stab protective vest thanks to a charitable donation from non-profit organization Vested Interest in K9s, Inc. and will be embroidered with the sentiment "In memory of K9 Rocco, Pittsburgh Bureau of Police". Delivery is expected within eight to ten weeks.
Vested Interest in K9s, Inc. is a 501c (3) charity located in East Taunton, MA whose mission is to provide bullet and stab protective vests and other assistance to dogs of law enforcement and related agencies throughout the United States. The non-profit was established in 2009 to assist law enforcement agencies with this potentially lifesaving body armor for their four-legged K9 officers. Since its inception, Vested Interest in K9s, Inc. provided over 2,600 protective vests, in 50 states, through private and corporate donations, at a cost of over 2.1 million dollars.
The program is open to dogs actively employed in the U.S. with law enforcement or related agencies who are certified and at least 20 months of age. New K9 graduate, as well as K9s with expired vests, are eligible to participate.
The donation to provide one protective vest for a law enforcement K9 is $950.00. Each vest has a value between $1,744 - $2,283 and a five-year warranty, and an average weight of 4-5 lbs. There is an estimated 30,000 law enforcement K9s throughout the United States. For more information or to learn about volunteer opportunities, please call 508-824-6978. Vested Interest in K9s, Inc. provides information, lists events, and accepts tax-deductible donations of any denomination at www.vik9s.org or mailed to P.O. Box 9 East Taunton, MA. 02718.
Zaki is a 2-year-old police K-9 that is trained in police patrol and protection in addition to narcotics detection. Zaki is quickly gaining a reputation as being extremely good with drug detection. Deputy Chris Mueller is the K-9 Officer and Zaki became partners in November 2016. Both Zaki and Deputy Mueller have gone through extensive K-9 training. Deputy Mueller also has extensive training with the legalities and guidelines of legally using the K-9 in various areas of law enforcement.
"I want to thank Vested Interest in K9s for selecting Zaki to receive a protective vest. I also want to continue thanking our great citizens and businesses that have made our K-9 program even possible. Just as my ballistic vest protects me, this vest will help protect K-9 Zaki." Deputy Chris Mueller
Zaki has been utilized dozens of times by various area agencies since becoming a sworn deputy sheriff. Zaki has assisted not only our office multiple times but also the Chillicothe Police Department, Missouri State Highway Patrol, Grundy County Sheriff, and Trenton Police. Zaki has helped make several illegal drug cases which would have otherwise gone free.
The Livingston County Sheriff's Office will soon sending K-9 Zaki and Deputy Mueller to an advanced K-9 Training Course which is comparative for a K-9 attending college and gaining a master's degree.
"We love our K-9 and program. We truly appreciate the help and support from Vested Interest in K9s, Inc. and all those who have supported this office over the years. As always our K-9 is ready to assist in area law enforcement needs." Sheriff Steve Cox
If you would like to partner with and contribute to our K-9 fund please send a check or money order to the LCSO at 901 Webster Street or County Clerk Sherry Parks at 700 Webster Street, Chillicothe, MO 64601. All funds are secured by the County Clerk until utilized for our K-9 program expenses.
Sheriff Steve Cox