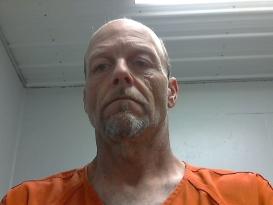 (Booking photo of Brian Moore)
August 16, 2017 Deputy Nicholas Leadbetter and Detective Ryan Ford worked on a criminal car stop together. Deputies reported seeing a male suspect driving a vehicle who had a revoked or suspended driver's license and was accompanied by another adult male.
Subsequent traffic stop led to the arrest of Brian Neal Moore, 47, Avalon, for alleged felony driving while revoked/suspended. Further investigation led to the seizure of suspected methamphetamine, hypodermic needle, and other paraphernalia.
Mr. Moore was arrested for the alleged felony Possession of Controlled Substance and was transferred to the Daviess Dekalb County Regional Jail. Initial charge was filed in Associate Circuit Court in Livingston County of alleged felony Possession of Controlled Substance. Mr. Moore remains incarcerated in lieu of $10,000 bond.
Sheriff Steve Cox
Reminder that all persons are innocent unless and until proven guilty in a Court of law.