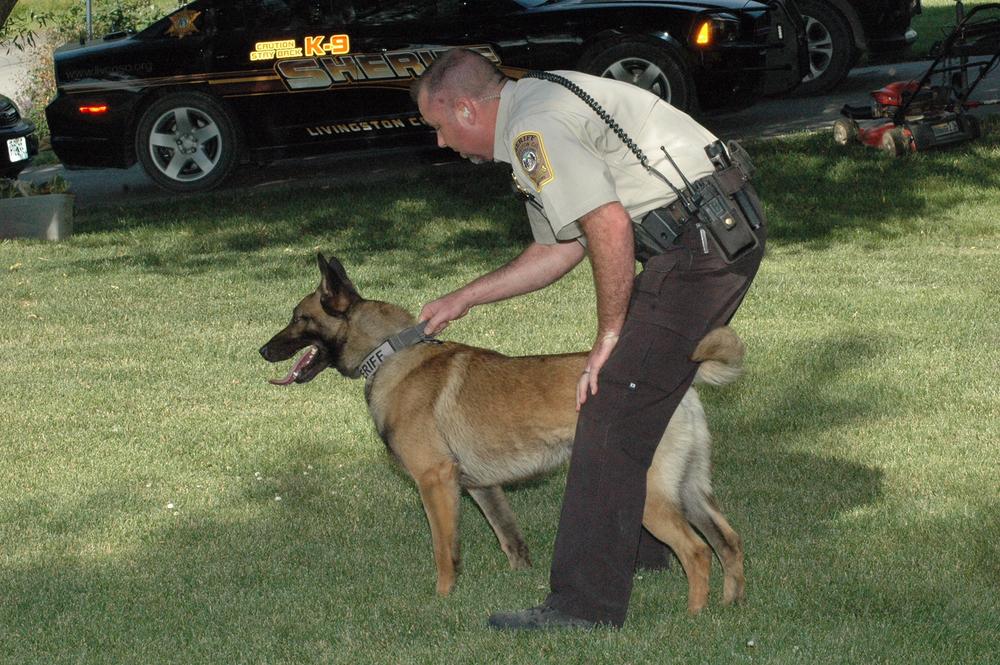 Zaki and K-9 Deputy Chris Mueller
Around September 01 Deputy Chris Mueller had Zaki check a vehicle and received positive indication of drug(s) being present. The Livingston County Sheriff's Office executed a search warrant on that vehicle and found suspected methamphetamine. An incident report seeking charge(s) will be submitted to the prosecuting attorney.
September 03 Deputy Chris Mueller and K-9 Zaki were called out to assist a Missouri State Highway Patrol Trooper near Hamilton in Caldwell County on a traffic stop. K-9 Zaki alerted of drug(s) being present in the vehicle. Further investigation involved the seizure of suspected methamphetamine, hydrocodone, drug paraphernalia, and items typically involved in Identity Theft (birth certificates, driver's licenses or ID cards, and Social Security Numbers from other people around the United States). The MSHP Trooper took the Livingston County resident into custody and any additional information may be obtained from the MSHP.
Also on September 04, 2017 Zaki turned 2 years old! Zaki (with help from his K-9 handler Deputy Mueller) has been doing a great job with law enforcement work and the various situations. Together they have assisted not only LCSO staff but also various law enforcement agencies multiple times. Zaki has earned a reputation for being a very accurate and hardworking dog with great sense of smell.
Sheriff Steve Cox