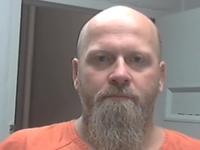 Lee Alvin Hines booking photo
December 04, 2017 the LCSO was continuing with a fugitive investigation for Lee Alvin Hines, 40 who was wanted on a Livingston County arrest warrant dated November 28, 2017 for alleged Probation Violation on original felony conviction of Endangering the Welfare of a Child-1st degree.
The investigation led to a location in Avalon Missouri where the LCSO and a MSHP Trooper responded. Incident report shows 2 adults in the home continually denied the presence of the fugitive even though we had strong evidence to show otherwise. One suspect reportedly denied consent for the officers to search the home for the suspect. After lengthy discussions the home owner admitted the suspect was in the home. Mr. Hines was found to have been hiding on the 2nd floor of the residence.
Mr. Hines was transferred to the Daviess Dekalb County Regional Jail on the no-bond warrant. Additional reports are being submitted to Prosecuting Attorney Adam Warren for consideration of additional charge(s) on the 2 other adults.
Sheriff Steve Cox