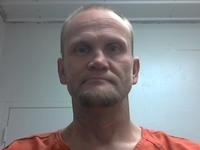 Booking photo of Barry Preston Cooper
On Friday evening, December 02, 2017 Deputy Nicholas Leadbetter responded to a call for assistance from authorities in Grundy County as they were in a pursuit with a vehicle from Trenton which led into Livingston County. Our deputy assisted until the vehicle was lost North West of Chillicothe due to the extensive dust on the gravel roads.
A short time later dispatch advised the vehicle was now parked near Chillicothe Correctional Center. The various agencies responded and found the suspect vehicle had been abandoned. A short while later an officer located the alleged female passenger of the car and she was taken into custody and returned to Trenton Police. Potential charges may be filed in Livingston County as well for the violations which took place here.
Later that shift in the early morning hours of Saturday, December 03 Deputy Leadbetter a vehicle being operated in an unusual manner in Chillicothe. When the deputy engaged emergency equipment to stop the vehicle the driver of that pickup refused to yield and attempted to evade the deputy for a short distance.
The driver, Barry Preston Cooper, 41, Chillicothe was placed under arrest for alleged Delivery of Controlled Substance (Methamphetamine), Possession of Drug Paraphernalia, Resisting Arrest/Detention/Stop by Fleeing, and Driving While Revoked. Mr. Cooper was subsequently transferred to the Daviess Dekalb County Regional Jail. An arrest warrant has since been issued for Mr. Cooper for alleged Delivery of Controlled Substance, bond was initially placed at $25,000 cash.
Sheriff Steve Cox