K-9 Zaki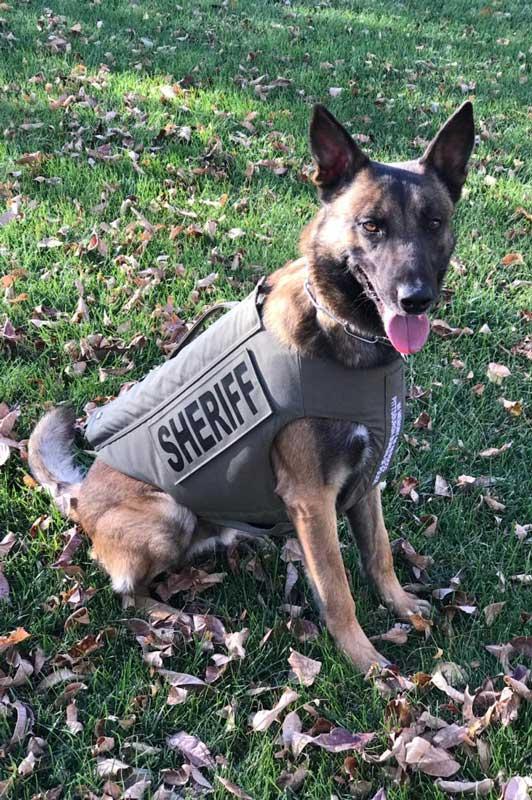 February 02, 2018
The Livingston County Sheriff's Office K-9 Program began with a vision in early 2016 to raise funds for the purchase and training of a dual purpose K-9, being trained in police patrol duties and drug detection.
What was first thought to be a 2 year goal to raise about $15,000 to obtain the funds for our K-9 program actually only took a few months thanks to the many kind and very generous people and businesses in Chillicothe and Livingston County.
We spent quite a bit of time in seeking the right training program and dog. We got very lucky to find Zaki who was less than 2-years-old when he was partnered with Deputy Chris Mueller. Zaki was trained partially overseas and then completed his training in the State of Kansas. Deputy Mueller attended 3 solid weeks with a full 21 days of training both day and night with Zaki. Deputy Mueller and Zaki have since spent additional time in Kansas for continuing education and training.
For a total of 3 weeks in November and December 2017 both Zaki and Deputy Mueller attended a very high level of K-9 training in the State of Oklahoma. This was likened to attending and graduating college for a K-9 whereas the initial training was a high school graduation with honors.
Zaki is a dual-purpose K-9 that has an outstanding nose, personality, intelligence, and drive. Zaki is known for his bite skills and officer protection. Zaki is not a pet and therefore is not a dog for taking to schools for kids to play with. Both Zaki and the LCSO take our jobs very seriously. Zaki is capable of searching for drugs, articles, and people. Zaki can search buildings, cars, and about anything there is.
Our K-9 and all the deputies are very important to this office, community, and their families. With that Zaki and each deputy has a ballistic vest for additional protection. Zaki's mere presence has caused people to surrender, not run from officers, and of course resulted in various drug arrests. We make Zaki available to any law enforcement officer/agency any time that he and his handler are available.
Zaki is a beautiful dog and a well-mannered dog. By law Zaki is a certified Deputy Sheriff that has the powers of arrest and additional protection from Missouri law. Zaki is also known by the criminal element in our area and has instilled fear and changes of behavior for some.
Our office is always open to contributions in support of Zaki and our K-9 program. Your donation can help cover expenses, insurance, and continued training for Zaki and the handler. If you wish to donate please contact either Sheriff Steve Cox or Captain Sindy Thomas at 660-646-0515 or email us at scox@livcoso.org or sthomas@livcoso.org. We greatly thank and appreciate those who have helped and continue helping make our county safer.
Sheriff Steve Cox