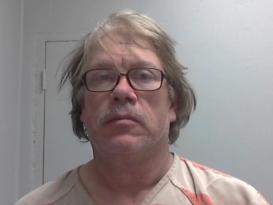 Michael Timothy Voldness booking photo
February 12, 2018 Deputy Nicholas Leadbetter conducted a traffic stop on U.S. 36 with a South Dakota vehicle for a traffic violation. Subsequently, Deputy Chris Mueller arrived with K-9 Zaki and walked around the vehicle with Zaki alerting to the presence of drugs. Further investigation led to the seizure of alleged methamphetamine and methamphetamine drug paraphernalia and a prohibited explosive device. The Missouri State Highway Patrol Bomb Squad assisted by rendering the explosive device safe.
LCSO staff arrested Michael Timothy Voldness, 57, Rapid City South Dakota for the alleged Possession of Methamphetamine, Possession of Drug Paraphernalia-Methamphetamine, and Possession of a Prohibited Explosive Device.
Investigation was presented to Prosecuting Attorney Adam Warren and Mr. Voldness has been charged in Livingston County Associate Circuit Court for alleged class D felony Possession of Controlled Substance. Bond set at $15,000 cash on case #18LV-CR00064. Mr. Voldness remains incarcerated in the Daviess Dekalb County Regional Jail in lieu of bond.
The LCSO is continuing the N.I.T.R.O. Federal Task Force for consideration of Federal Charges with the explosive weapon considering the alleged history of the suspect.
Outstanding job by our staff and K-9 Zaki.
Sheriff Steve Cox
(Reminder that all persons are innocent unless and until proven guilty in a Court of law. A mere arrest or arrest warrant is only an allegation and nothing more.)