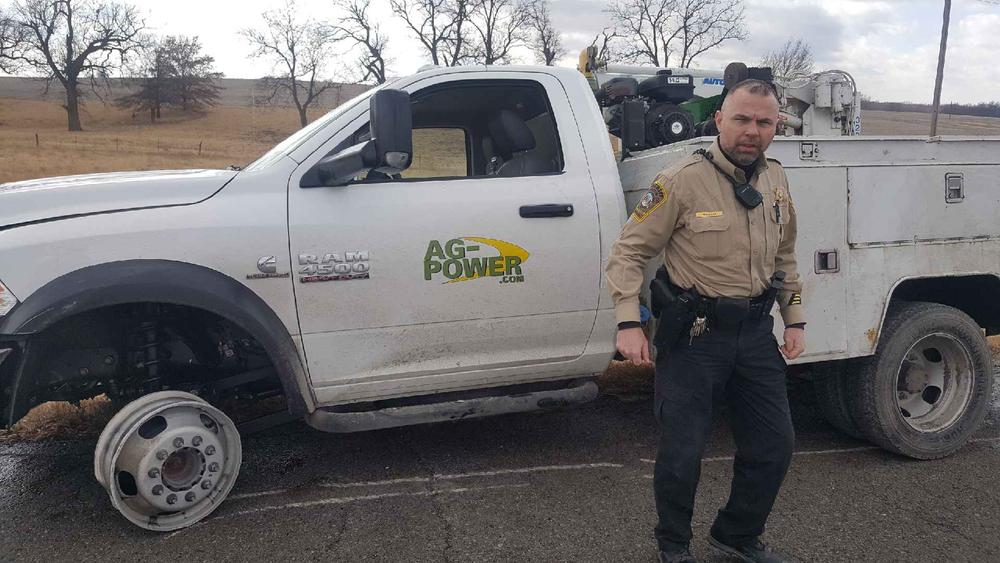 Stolen Vehicle and Pursuit Ends in Livingston County
February 17, 2018 authorities in Saline County, Missouri received a report of a stolen Dodge 4500 utility truck carrying compressed butane was located by Carroll County Sheriff Bill McCoy in Carroll County.
Our understanding is the Carroll County Sheriff and Deputy attempted to stop this stolen vehicle and this turned into a pursuit with the driver of the stolen vehicle nearly striking motorists. This chased entered into Livingston County and went north through Ludlow to U.S. 36.
At some point Missouri State Highway Patrol and Livingston County Deputy Chris Mueller with K-9 Zaki took part in this. The MSHP zone Sergeant Doug Little was able to use spike strips and get multiple tires on the stolen vehicle. Chillicothe PD was assisting and blocked traffic from U.S. 36 for safety purposes.
The stolen vehicle continued east on U.S. 36 with a front flat tire and inner tires on the rear end going flat. The vehicle also hit a highway sign and damaged the front end of the pickup to the point it was losing antifreeze.
The suspect vehicle came to a stop near U.S. 36 and Highway CC where the suspect surrendered without incident. The suspect was initially identified as Jeremiah Joel Bailiff, 20, St. Louis which was confirmed through fingerprint identification at the Livingston County Sheriff's Office. The suspect was turned over to Carroll County Sheriff Bill McCoy.
We anticipate the suspect will be charged for alleged violations in Saline County and Carroll County. The LCSO and MSHP will submit incident reports to Livingston County Prosecuting Attorney Adam Warren for consideration of additional felony charge in Livingston County due to the suspect driving 95 on rural highway and running people off the roadway. Fortunately no one was injured in this incident. The only damage known at this time is to the stolen vehicle and a highway sign hit by the stolen vehicle.
In Livingston County this incident involved the Carroll County Sheriff's Office, Missouri State Highway Patrol, Chillicothe PD, and Deputy Chris Muller and Sheriff Steve Cox. K-9 Zaki was along for the ride on this incident but he was anxious to make a new friend and lasting impression. Fortunately that did not have to happen. It was still good to have Zaki involved.
(Any questions should be directed to Saline County authorities, Carroll County Sheriff Bill McCoy, and the Missouri State Highway Patrol.)
Sheriff Steve Cox
Reminder that all persons are innocent unless and until proven guilty in a Court of law. A mere arrest and arrest warrant is only an allegation.