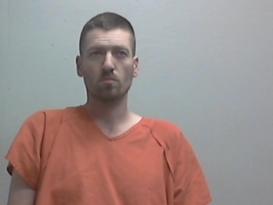 Curtis S. Wheelbarger booking photo
May 11, 2018 about 12:30 a.m. a deputy had observed a vehicle stopped on a gravel road outside of Chillicothe and subsequently stopped the same vehicle for traffic violation(s) as it left that area. It was determined the occupants had been cleaning out their vehicle and dumping trash in the roadway.
Further investigation resulted in the arrest of Curtis Scott Wheelbarger, 38, Trenton for alleged felony Driving While Suspended/Revoked, and felony possession of Methamphetamine/Drug Paraphernalia.
Mr. Wheelbarger was incarcerated in the Daviess Dekalb County Regional Jail on 24 hour hold pending consideration of charges by Livingston County Prosecuting Attorney Adam Warren.
The passenger in this stop has cleaned up the trash and may receive a trip to Court as well.
Good job by those involved.
Sheriff Steve Cox