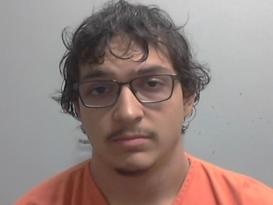 (booking photo Ryan Tyler Kole)
Early afternoon on August 20 Deputy Leadbetter was on patrol and was passed by a speeding vehicle on U.S. 36. The vehicle took quite a while to stop and finally stopped in the City of Chillicothe.
Further investigation on the stop caused the deputy to believe illegal substance(s) were in the vehicle. Deputy Leadbetter had probable cause and received consent to search the vehicle and located a smaller quantity of suspected Marijuana, THC Edibles, Drug Paraphernalia, and 2 sheets of hallucinating acid.
The driver originated in Chicago and was intending on traveling to Las Vegas. The driver, Ryan Tyler Kole, 20, Nevada was arrested on multiple allegations of drug violations and transferred to the Daviess Dekalb County Regional Jail pending formal charges being filed.
The Chillicothe Police assisted Deputy Leadbetter on the vehicle stop.
Good job by all.
Sheriff Steve Cox