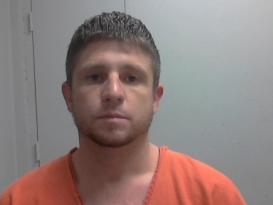 Cody Whiteside
On Saturday, September 08, 2018 about 1:08 a.m. the LCSO was dispatched to a burglary and property damage call at a home in the 16000 block of Liv 228.
Investigation shows that a car had been placed in some tall weeds behind a home in a low lying area and became stuck. This reportedly happened on Wednesday, September 05 and the car was eventually pulled out and removed on late Friday, September 07.
The home owner had been away from the home during this time but reported finding where someone had been in the house and described the basement as being ransacked and destroyed with items thrown all over.
Detective Ryan Ford requested the Chillicothe Police be on the lookout for a possible suspect and detain the person if located. The CPD soon found the individual at a Chillicothe business and notified the detective.
The suspect claimed he accidently drove off the roadway and became stuck, had no food or water, little to occasional cellphone reception and slept in his car for 2 nights before being rescued by some friends on Friday the 7th. The driver claimed to have never gone into the victims home or to any nearby neighboring homes or even call 911 to seek any assistance.
The suspect allegedly entered the victim's home through a basement door and then remained in and around the home until at least September 07.
The LCSO arrested Cody Lee Whiteside, 31, Chillicothe for alleged Burglary and property damage. Mr. Whiteside has since been charged in Livingston County Associate Circuit Court with alleged Burglary 2nd degree and bond was initially placed at $5,000 cash. Mr. Whiteside is currently being held at the Daviess Dekalb County Regional Jail in lieu of bond.
Investigation is continuing and a great job by all involved.
Sheriff Steve Cox