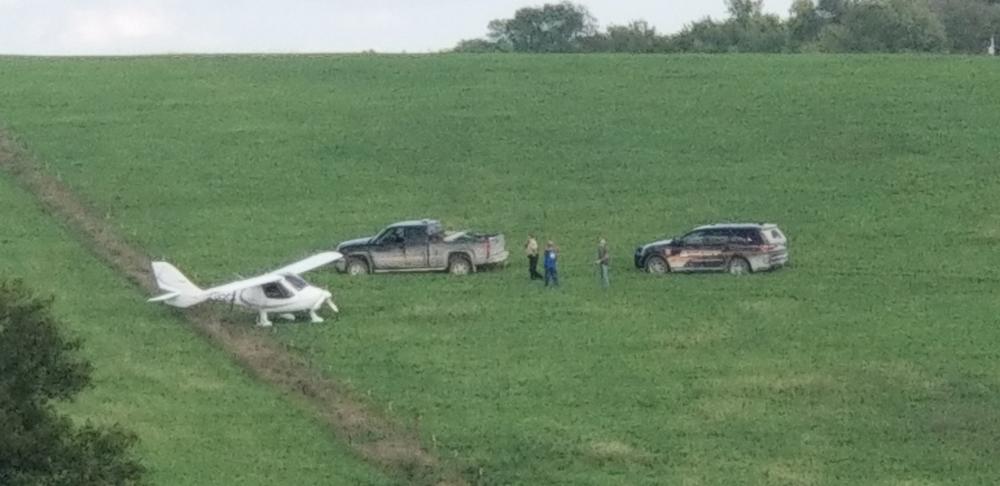 LCSO photo
On Thursday, September 13, 2018 about 3:53 p.m. dispatch informed us of a call from the F.A.A. reporting a possible aircraft down 7 to 10 miles southwest of Chillicothe in Livingston County and the pilot was possibly injured.
The LCSO had several officers on duty as we were about to start a planned enforcement activity in the county. All LCSO staff responded as did the Missouri State Highway Patrol, Chillicothe Department of Emergency Services responded with a variety of emergency equipment and UTV, Chillicothe PD sent an officer and a drone, Dawn First Responders, Missouri Department of Conservation Agent from Caldwell County, Bill Kieffer used his plane to help search as did Life Flight Eagle, and several citizens assisted in the search.
Responders were conducting a search of the general area and later the F.A.A. reported the plane was down somewhere near Avalon, MO. Several responders were directed to Avalon area to continue searching. A while later the F.A.A. advised according to the mapping the plane was south of the railroad tracks in Ludlow and east of the first house south of the railroad tracks not more than ¾ of 1 mile. This search on land and air was not providing any results, a lot of fields still have corn standing which provides poor visibility from the ground when searching fields.
It was very difficult to get information from the pilot to the FAA to the dispatch center and/or the sheriff's office. LCSO Captain Sindy Thomas was finally able to make contact with the pilot by phone. The pilot reported he was in a field, could see a home about ¼ mile away, and was able to walk to that house and checked the mail in the mailbox for an address. At 5:02 p.m. the pilot was soon located a few miles south east of Dawn and the pilot again reported being uninjured. The pilot is from the State of Wisconsin.
The Missouri State Highway Patrol is investigating the crash and the F.A.A. reportedly will also be investigating. The landowner is aware of the incident.
Soon after this call the sheriff posted what limited information we had on the sheriff's office social media in attempt to get visual help from anyone in the area to aide in locating this man. This post was quickly shared 178 times and was viewed by over 6,700 people. We greatly appreciate the help from the public and our friends on social media. This sharing of information shows that Knowledge is Power. Fortunately this incident ended well.
Dispatch and the sheriff's office were both flooded with calls. Hopefully we have not mistakenly omitted any responders, but everyone who helped, dispatched, answered phones or shared information from social media did a great job.
Sheriff Steve Cox