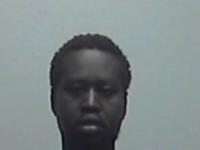 (Booking photo of Mr. Riak Deng)
On Friday, November 23 about 11:11 a.m. Deputy Minnis was on U.S. 36 and checked an eastbound vehicle at 86 in a 65 near Utica. As the deputy was attempting to stop the suspect vehicle we also received a call of a careless and imprudent/speeding vehicle matching the same vehicle description which Deputy Minnis was trying to stop. The deputy reported attempting to stop the suspect vehicle for quite some time and finally got the vehicle to stop near U.S. 36 and U.S. 65.
The deputy reported approaching the driver and obtaining information and evidence supporting the driver and passenger were very intoxicated. A Chillicothe Police Officer and Missouri State Trooper assisted Deputy Minnis. The driver reportedly refused to cooperate with nearly anything the deputy or officers asked or requested.
The suspect, Riak Deng, 35, KCMO was arrested on scene for alleged felony driving while intoxicated and driving while revoked/suspended and other traffic violation(s). Mr. Deng allegedly frequently cursed and threatened the officers with physical harm in addition to using racial slurs toward the officers.
Mr. Deng was transported to the Chillicothe Police Department for attempt to collect a breath test. Mr. Deng was ultimately incarcerated in the Daviess Dekalb County Regional Jail and has since been charged with felony DWI violation. The probable cause statement shows Mr. Deng allegedly has multiple prior DWI convictions. Mr. Deng remains incarcerated in jail in lieu of $25,000 bond.
We appreciate the assistance from the CPD and MSHP with the reportedly uncooperative and threatening suspect.
Great job by all in attempt to keep our county and roadways safe.
Sheriff Steve Cox