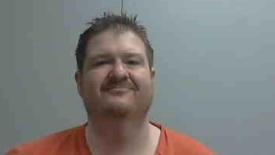 (Michael Stoddard booking photo)
February 13 Deputy Leadbetter and K-9 Zaki were summoned to assist a Missouri State Trooper on a vehicle stop on U.S. 36 near the Livingston-Caldwell County line. Zaki did a free air sniff and showed positive indicators on the odor of drugs being present. Further investigation by the MSHP and deputy resulted in the seizure of suspected Methamphetamine paraphernalia and a bag of Methamphetamine. The evidence was turned over to the MSHP. See MSHP for arrest information.
February 14 Deputy Leadbetter and K-9 Zaki were called to a vehicle stop to assist the Chillicothe Police with an investigation. Zaki gave positive indication as to the odor of drugs and the CPD located minor amount of marijuana which did not result in a citation being issued.
February 16 Deputy Leadbetter and K-9 Zaki were called to a location to assist the Chillicothe Police on a drug investigation. Zaki gave a positive indication on drug odor and the CPD continued with the investigation and conducted a search. A person was taken into custody, see CPD for additional information.
February 18 the LCSO conducted a domestic disturbance investigation in Utica and subsequently discovered alleged methamphetamine and methamphetamine paraphernalia on the property. Additional investigation is taking place and the evidence is being submitted to the Missouri State Highway Patrol Crime Lab for identification and weight.
February 18 a deputy checked on a stationary vehicle in the Utica area and found both occupants had non-extraditable warrants from other jurisdictions in Missouri. Further investigation led to Deputy Leadbetter and K-9 Zaki being called to the scene where Zaki gave indication to the odor of drug(s). Subsequent search resulted in locating a minor amount of marijuana. The occupants were advised to clean their vehicle and no citations were issued.
February 21 the LCSO conducted a drug investigation near U.S. 36 and Liv 255. Deputy Leadbetter had K-9 Zaki conduct a free air search around a vehicle. Further investigation resulted in the seizure of a Methamphetamine smoking pipe and a baggie of suspected Methamphetamine from Ashley Dawn Brown, 29, Ludlow. Ms. Brown was arrested and processed but released pending lab reports from the Missouri State Highway Patrol Crime Lab.
February 22 the LCSO conducted a fugitive investigation and checked on the fugitives vehicle with a couple of suspicious people sitting in the K-9 Zaki alerted to the odor of drug(s) and the vehicle was impounded pending execution of a warrant. Subsequent investigation resulted in item(s) commonly used with the distribution of controlled substances was seized from the vehicle. An incident report will be submitted to the prosecuting attorney and the warrant has been returned to the court. Additional investigation is underway.
February 23 the LCSO concluded a lengthy drug investigation involving a residence and home in Ludlow. With assistance from the Missouri State Highway Patrol officers converged on a vehicle with 3 occupants in the Dawn/Ludlow area and subsequently seized suspected methamphetamine, heroin, and several items of drug paraphernalia. A search warrant was then executed at a residence in the 200 block of Chicago in Ludlow. Evidence from that location was seized. Deputies arrested Michael J. Stoddard, 38, Ludlow for alleged felony possession of controlled substance 2 counts being Methamphetamine and Heroin. Mr. Stoddard was transferred to the Daviess Dekalb County Regional Jail and has since been charged in Associate Court. Mr. Stoddard remains incarcerated in lieu of $15,000 bond. A male and female from Linn County were interviewed and may be charged with alleged drug violation(s) at a later date. The LCSO also received periodic assistance from the Chillicothe Police during this case. Investigation continues.
February 27 the LCSO arrested Brian Neal Moore, 49, Utica for alleged felony Possession of Controlled Substance-Methamphetamine from an incident in September 2018. Incident involved Mr. Moore allegedly fleeing in motor vehicle and on foot from Detective Ford. A quantity of methamphetamine and distribution equipment was seized. Later that week the Chillicothe Police arrested Mr. Moore on a separate incident where he was in possession of Methamphetamine. The LCSO has recently received the lab report from the Missouri State Highway Patrol Crime Lab on our investigation from September. Mr. Moore was transferred to the Daviess Dekalb County Regional Jail pending first Court appearance.
Our goal is to identify those who need help with addictions and steer them in the right direction which may include court appearance. We will always work to identify those who are responsible for selling and/or distributing controlled substances such as Methamphetamine and Heroin and provide the prosecutor with information to get those people to appear before the Courts.
I am very proud of the work K-9 Zaki, Deputy Leadbetter and all your LCSO staff does. We thank you for allowing us to be here!
Sheriff Steve Cox
Reminder that all persons are innocent unless and until proven guilty in a Court of Law. A mere arrest, arrest warrant or search warrant are only allegations and nothing more.