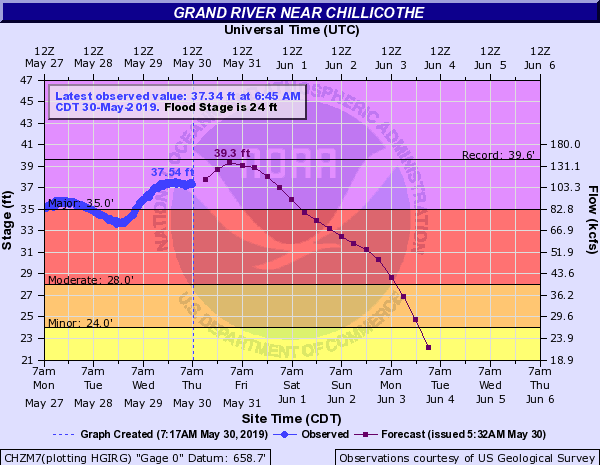 U.S. 36 going west from Chillicothe is extremely threatened to close this morning! Water is now covering the cross over for 2 lane traffic at 7:30 a.m..
As of 6:20 a.m. today U.S. 36 west of Wheeling is CLOSED due to flood water.
U.S. 65 south of Chillicothe is CLOSED.
Highway 190 from the Thompson River to Highway Y is CLOSED.
As you can see from the last hydrology report from National Weather Service the Grand River at Chillicothe is at 37.54 feet and expected to crest at 39.3 feet late tonight or tomorrow morning. I do not see how 36 can take another 12+ inches of water and keep the bridges at Coon Creek open. We will continue monitoring.
U.S. 65 north of Chillicothe near Highway K is also being monitored as levees have apparently broken and National Weather Service reported they were concerned of potential flooding in that area. At this moment there is not a threat to close the highway. Monitoring will continue..
Do NOT drive through flood water. Your life is too important.
Be safe.
Sheriff Steve Cox