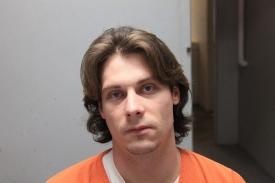 Matthew Aaron Case (LCSO file photo)
Yesterday LCSO staff arrested Matthew Aaron Case, 28 on Livingston County arrest warrant for alleged Violation of Bond Conditions on original class E felony Attempted Tampering with Motor Vehicle with bond set by the court at $50,000 cash.
Mr. Case was taken by ambulance to Hedrick Medical Center and transferred to Kansas City. On July 14, 2019 Mr. Case was cleared for confinement and transferred to the Daviess Dekalb County Regional Jail on the arrest warrant by Sheriff Cox.
The LCSO investigation continues on the allegations of Assault Law Enforcement Officer-1st degree, Armed Criminal Action, Felon in Possession of Firearm, Resisting Arrest on felony, Tampering with Physical Evidence, Possession of Methamphetamine, Possession of Methamphetamine Drug Paraphernalia and multiple traffic violations. Mr. Case is alleged to have been armed and even pointed a loaded .357 handgun at our deputy prior to throwing the evidence in a large area of tall weeds when he realized the deputy was about to discharge his duty weapon.
Our office will also be sharing this information with the N.I.T.R.O. Federal Task Force due to evidence/facts for consideration of federal prosecution. Once our investigation has been completed a report will be sent to Livingston County Prosecuting Attorney Adam Warren for consideration of charges. Mr. Case is also currently on Parole in Missouri for a Burglary Conviction.
This incident could have easily been serious injury or death to our deputy, innocent 3rd party and/or the suspect. Fortunately no one, including Mr. Case were injured. Family member(s) of Mr. Case have been notified of the update.
Methamphetamine sales, distribution and use are common in every community. We continue working with multiple agencies here and on other levels to combat the methamphetamine crimes both here and around Missouri.
LCSO staff, Chillicothe Department of Emergency Services, Hospital Medical Staff, and K-9 Zaki did an excellent job with this incident.
Sheriff Steve Cox
Note: All persons are innocent unless and until proven guilty in a Court of law. An arrest or arrest warrant is merely an allegation and nothing more.