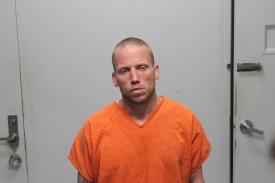 Booking Photos from DDRJ
Sease Beard Edward Everett Arnold
October 01, 2019 was another busy day for area law enforcement. One major incident to report on:
A pickup had been recently stolen in Chillicothe and was reported to Chillicothe PD. Our understanding is the owner of the stolen vehicle occupied and on the move on October 01 and reported this information to the Chillicothe Police. Additional understanding is the CPD attempted to stop the vehicle and chase began which led south on U.S. 65 and quickly involved the Missouri State Highway Patrol. Chase went south across Roach Lake Bridge with suspect vehicle reportedly doing 70 + in the one lane active road construction. LCSO staff were attempting to get into position to assist and Deputy Leadbetter and Zaki were also responding from assisting Carroll County Sheriff in Hale.
The stolen vehicle led officers to the area of U.S. 65 and Highway Z and then turned northbound with the men reportedly bailing out of the stolen vehicle some distance south of Roach Lake Bridge with officers quickly taking one into custody. The driver somehow got back to the stolen vehicle and continued northbound again at high rate of speed through the construction zone with a trooper attempting to spike strip the tires with the driver avoiding this attempt. Another trooper was able to spike strip the vehicle tires closer to the Grand River and the chase headed into the south end of Chillicothe where the vehicle driver went off the roadway and became stationary in the median south of Taco Bell. Suspect was taken into custody.
Arrested and now officially charged in Livingston County Associate Court were Sease Beard, 24, Corder MO, wanted on parole warrant for felony Assault of DOC Employee or Offender, is on parole until March 05, 2020. Charged 10-2-2019 in Livingston County with alleged class D felony Tampering with Motor Vehicle-1st degree and class E felony Resisting Arrest/Detention/Stop. Bond set on Mr. Beard at $20,000 cash.
Also arrested was Edward Everett Arnold, 36, Excelsior Springs, MO and charged on October 2 on Livingston County arrest warrant for alleged class D felony Tampering with Motor Vehicle-1st degree and class E felony Resisting Arrest/Detention/Stop. Bond set at $10,000 cash. Mr. Arnold is also on probation in Carroll County for of all things, Tampering with a Motor Vehicle.
A LCSO and CPD officer travelled together taking these gentlemen to the Daviess Dekalb Regional Jail pending formal charges on October 01.
LCSO and CPD had been conducting fugitive investigation on Mr. Beard for a few days as he was reportedly in our area. My opinion the driver of the stolen vehicle showed he had no concern about safety of anyone else on the roadway.
Some may wonder why Mr. Beard was not on the LCSO MOST WANTED Website. Simply because it was not a Livingston County arrest warrant being a warrant not signed by a Judge. Mr. Beard was wanted by the Missouri Department of Corrections Probation and Parole for alleged Parole Violation. Sheriffs have no control over those type of warrants and it would not be prudent for this office to place information on our website or social media at that time.
Zaki really wanted to be there from the beginning but logistics prevented that from happening. Zaki is pretty good at hide and seek.
Fortunately NO one was hurt and these two men have a new address for the time being.
Great TEAM work and outstanding job by all involved and we all appreciate the Chillicothe Department of Emergency Services assistance at the stop scene. Thank you for supporting your local law enforcement and emergency responders.
Be safe.
Sheriff Steve Cox
Reminder that all persons are innocent unless and until proven guilty in a Court of law. A mere arrest and/or arrest warrant is only an allegation and nothing more.