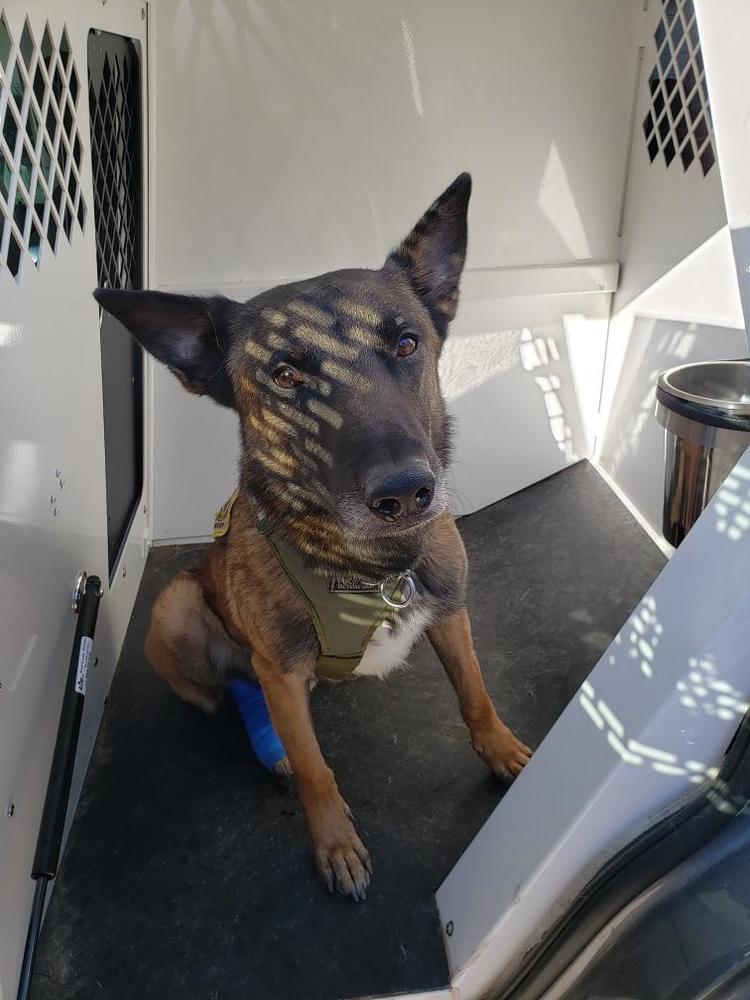 Zaki with Leg Injury
Earlier this month Deputy Leadbetter and K-9 Zaki were summoned out one night to assist the Chillicothe Police with a man who was reportedly wanted on Federal Arrest Warrant(s) and allegedly in Possession of a Stolen Vehicle.
When the subject was located he was not compliant with the law enforcement requests and due to overall circumstances Zaki was given directive to detain the suspect. As Zaki was running to complete his order, a back leg somehow got caught on something and cut badly. An officer was then directing the suspect at gun point to submit to arrest when the suspect began fighting the armed officer. Law Enforcement and Zaki worked together taking the suspect into custody.

Once the scene was secured Deputy Jordan Williams and Deputy Leadbetter gave Zaki first aid. Zaki was subsequently treated by a local Vet where he received staples to close the wound and given 1 week off duty to recover. Zaki returned to full work this week in time for a man hunt in southern Livingston County. Fortunately Zaki and everyone are okay.
If you would like to be a part of Zaki's Team we are always open to contributions specifically for the LCSO K-9 Fund. You can direct a donation to Captain Sindy Thomas at the LCSO, 901 Webster Street, Chillicothe, MO 64601, email her at sthomas@livcosoorg or call us at 660-646-0515. Any donations will be secured with County Clerk Sherry Parks in a fund only for K-9 Zaki and Deputy Leadbetter. Zaki would even be happy to meet his fan club and supporters if you like.
Zaki has helped many people and been great assistance to a number of agencies in our area. We thank you for the opportunity to have him and Deputy Leadbetter on our TEAM.
Sheriff Steve Cox