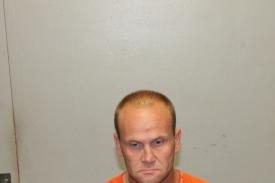 Barry Cooper booking photo 11-19-2019
November 19 Deputy Dustin Woelfle was on duty and about 3:56 p.m. attempted to stop a vehicle with improper license place and a person driving who allegedly had a revoked driver's license. The drive failed to yield to the emergency vehicle for over a mile and finally came to a stop at a private residence in the 200 block of Second Street in Chillicothe.
The stop/investigation resulted in the seizure of a large amount of suspected methamphetamine, methamphetamine paraphernalia, schedule prescription pill(s), and a small bag of marijuana from the vehicle.
Arrested was Barry P. Cooper 43, Chillicothe for alleged Delivery of Controlled Substance-Methamphetamine and Driving While Revoked. Mr. Cooper was processed and taken to the Daviess Dekalb Regional Jail. Mr. Cooper has since been charged in Livingston County Associate Court with alleged class C felony Delivery of Controlled Substance.
Online records show on February 28, 2018 Mr. Cooper pled guilty and was sentenced in Livingston County Circuit Court on Delivery of Controlled Substance class C felony and was sentenced to 4 years in the Missouri Department of Corrections on case #17LV-CR00486-01. Mr. Cooper is currently on parole on that conviction and remains incarcerated in lieu of bond on the new case.
Deputy Woelfle did a great job on this case and was assisted by other LCSO staff and by the Chillicothe PD.
Sheriff Steve Cox
Note: All persons are innocent unless and until proven guilty in a Court of Law. An arrest and/or arrest warrant is merely an allegation and nothing more.