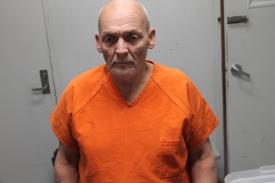 James Russell Utley 2020 booking photo
February 06 LCSO staff conducted a traffic stop in Chillicothe pertaining to an investigation this resulted in the seizure of methamphetamine packaged in a common way for immediate distribution, drug distribution equipment, and Controlled Substance-Xannax.
The stop resulted in the arrest of James Russell Utley, 59, Chillicothe for alleged Driving While Revoked, Possession with Intent to Distribute Methamphetamine and Possession of Controlled Substance-Xannax.
Mr. Utley has since been charged in Livingston County Associate Court with 2 counts of alleged Delivery of Controlled Substance. Mr. Utley remains incarcerated in lieu of $7,500 bond.
Sheriff Steve Cox
NOTE: All persons are innocent unless and until proven guilty in a Court of Law. An arrest and/or arrest warrant is merely an allegation and nothing more.