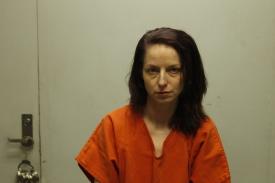 Maegan Knouse booking photo
April 27, 2020 Livingston County Sheriff's Office (LCSO) had an open drug investigation in Wheeling that resulted in the execution of a search warrant of a home. LCSO obtained a search warrant from the Livingston County Court and served said warrant with assistance from a member of the Missouri State Highway Patrol. The search warrant was executed around mid-afternoon in the 800 block of Highway B which is in the north end of Wheeling.
The search resulted in the seizure of methamphetamine, equipment commonly used in the distribution of controlled substance(s), methamphetamine drug paraphernalia and other item(s) supporting drug transactions.
Officers have arrested one suspect being Maegan A. Knouse, 38, for alleged Delivery/Possession with Intent to Distribute Methamphetamine.
Online records show Ms. Knouse also has multiple felony allegations pending in Linn County Missouri which include 12 class C felony counts of Delivery of Controlled Substance, 1 class E felony of Unlawful Use of a Weapon, and 2 class D felony counts of Endangering the Welfare of a Child involving Drugs-1st degree, all of which she is currently out on bond.
April 28 Livingston County Court issued an arrest warrant for Ms. Knouse who is now charged with alleged class C felony Delivery Controlled Substance-Methamphetamine with bond set at $25,000 cash on case #20LV-CR00218. Ms. Knouse remains incarcerated in the Daviess Dekalb Regional Jail in lieu of bond.
We appreciate the assistance of Livingston County Prosecuting Attorney Adam Warren. Additional investigations continue. Great job by all involved.
Sheriff Steve Cox
Note: All persons are innocent unless and until proven guilty in a Court of Law. An arrest, arrest warrant or incarceration is merely an allegation and nothing more. (added 4-29-2020 SC)