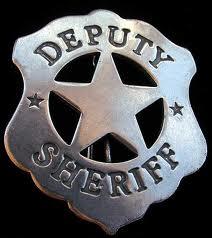 Monday, May 18, 2020 started as a very busy day for the LCSO. We were first summoned to assist the Chillicothe Police for a stolen vehicle from a business near Second and Washington Streets. That vehicle fled from law enforcement before our officers could assist. That same vehicle ended up fleeing from the Missouri State Highway Patrol west of Livingston County and frequently drove at high speeds in the wrong lanes of U.S. 36 and I-35. Various agencies in that area and into Clay County were involved at different times. LCSO officers staged at different areas as at times there was concern the pursuit was headed back this direction.
Clinton County Sheriff Larry Fish notified us the suspect taken into custody was Nicholas Paul Hagler, 26 of Independence. Mr. Hagler has been on our Most Wanted website since April 2020 for alleged Failure to Obey a Judge's Order on Bond Conditions for original class D felony Tampering with a Motor Vehicle (Auto Theft). Mr. Hagler was taken to Jackson County Jail on another warrant. Mr. Hagler will eventually work through the court system and return to Livingston County Court for his alleged crimes here.
_______________________________________________________
Monday morning LCSO responded to a call of a 1 vehicle accident on Highway B north of Wheeling. Officers learned the driver had left the scene and observed a rifle inside the vehicle. It was determined the vehicle had recently been purchased by a known felon and concern there may be alcohol and/or drugs involved with the driver. Linn County Sheriff Henke brought his K-9 to the scene and along with LCSO and Missouri State Highway Patrol tracked the alleged driver some distance and he was taken into custody.
Officers arrested Douglas Steven Coin, 36, Wheeling for the alleged felon in possession of firearm and Driving While Intoxicated. MSHP Trooper took over the investigation and processed Mr. Coin. LCSO later transported Mr. Coin to the Daviess Dekalb Regional Jail and formal charge has since been filed for the alleged Unlawful Possession of Firearm. Mr. Coin remains incarcerated in lieu of $7,500 bond.
That afternoon LCSO obtained a search warrant for Mr. Coins property. Investigation shows ammunition for that same caliber firearm and drug paraphernalia was seized during the search of the home. Missouri State Highway Patrol assisted in serving the search warrant.
_______________________________________________________
Tuesday resulted in the manhunt in southern Livingston County that resulted in 1 arrest and being unable to locate 2 additional suspects. Followed by the investigation of a stolen vehicle from Blue Mound area reported the morning of May 20.
We continue working with the various agencies including the U.S. Marshall's Office on this case.
_______________________________________________________
Great TEAM work by all involved.
Sheriff Steve Cox
NOTE: All persons are innocent unless and until proven guilty in a Court of Law. An arrest, arrest warrant and/or incarceration are merely allegations and nothing more.