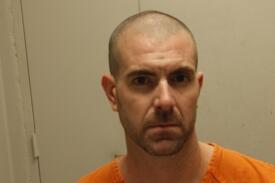 Eric Michael Jukiewicz booking photo
On Tuesday evening Deputy Dustin Woelfle checked a vehicle traveling west on U.S. 36 at 106 in a 65. Deputy Woelfle was able to get the vehicle stopped at U.S. 36 and U.S. 65. The stop resulted in the seizure of controlled prescription medications and THC Vape cartridges which the driver was allegedly in illegal possession of. This resulted in the arrest of Eric Michael Jukiewicz, 39, Mayfield Illinois for the alleged speeding violation and possession of controlled substance(s). Additional investigation to support or eliminate possible drug use while operating motor vehicle was attempted. Mr. Jukiewicz was processed and transported to the Daviess Dekalb Regional Jail pending formal charges.
Sheriff Steve Cox
Note: All persons are innocent unless and until proven guilty in a Court of Law. An arrest, arrest warrant and/or incarceration is merely an allegation and nothing more.