Meth and Fleeing Arrest
08/12/2021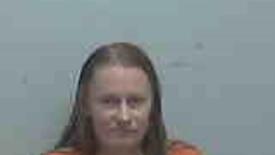 (LCSO file photo of Peggy Zorn)
Around 9:20 p.m. on August 11 LCSO staff were attempting to assist the Chillicothe Police as a vehicle was fleeing from them. The LCSO deputy located the vehicle had ran off the roadway on LIV 238 and the driver had fled. A methamphetamine smoking pipe was located as was a cell phone. Security footage showed one female fleeing from the scene and officers were able to identify a suspect.
On the morning of August 12 about 8:36 a.m. the suspect was found in that vicinity when she attempted to contact someone at a rural home. LCSO subsequently arrested Peggy Jo Zorn, 42, Chillicothe for alleged Possession of Methamphetamine, Possession of Methamphetamine Drug Paraphernalia and Resisting Arrest by Flight. Ms. Zorn was allegedly found to be in possession of Methamphetamine and Drug Paraphernalia at the time of actual arrest.
Ms. Zorn was transferred to the Daviess Dekalb Regional Jail on 24 hour hold pending filing of formal charges.
Sheriff Steve Cox
Note: All people are innocent unless and until proven guilty in a Court of Law. An arrest, arrest warrant and/or incarceration is merely an allegation and nothing more.