Get to Know Your Deputies
06/22/2022
As sheriff I would like everyone to get better acquainted with our employees and each month I will share with you information about a different employee. In doing so, we want remind everyone that our law enforcement officers are everyday people with just a different kind of job. We are people who live in the same community, shop at the same businesses, attend some of the same functions or events, and probably also share many of the same beliefs as you. Here are some questions and answers to get this started:
Meet Michael Claypole who is the Chief Deputy at the LCSO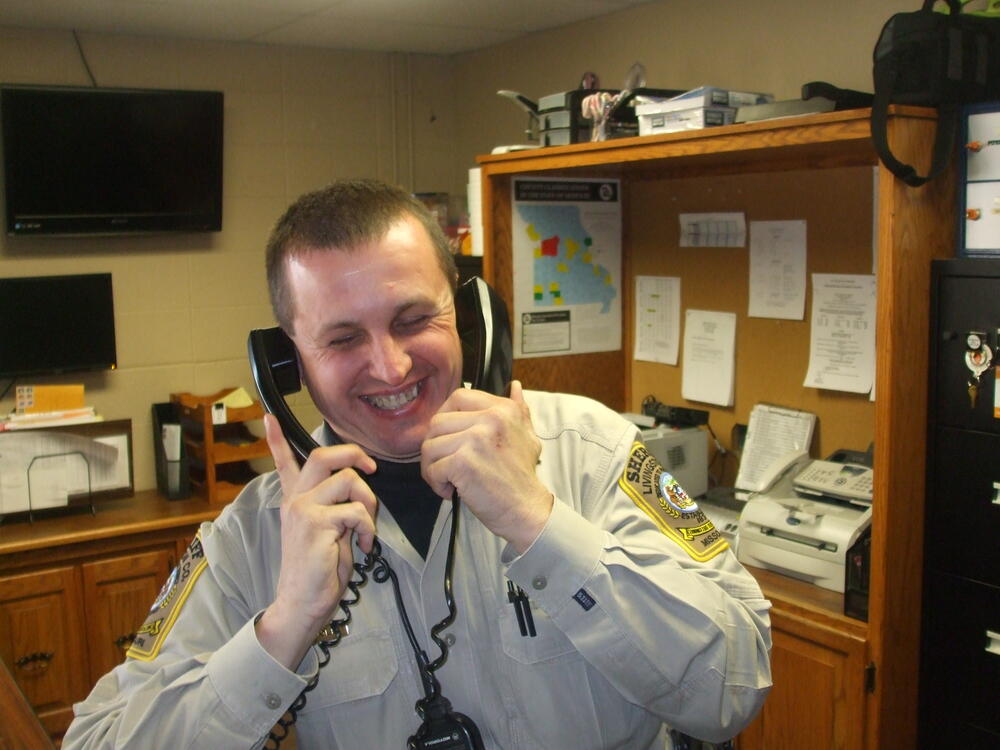 When and why did you get into law enforcement?
I always wanted to get into law enforcement from a young age growing up around the court system and law enforcement with my mother working for the court system. I got into law enforcement in 1999 paying for myself to attend the law enforcement academy in St. Joseph, MO.
What is your work history in law enforcement?
I attended Missouri Western State College Law Enforcement Academy from July 1999 to December 1999 and began working with Buchanan County Sheriff's Office in November 1999 as a civilian in the detention center and then was sworn in as a Deputy with Buchanan County in December 1999. I left Buchanan County in May 2000 to begin employment with Chillicothe Police Department. I was promoted with Chillicothe to the rank of Corporal and the Sergeant during my time with CPD. I left CPD in 2008 and began working for the Livingston County Sheriff's Office. During my time with the Sheriff's Office I have held the ranks of Deputy Sheriff, Sergeant, and was promoted to Chief Deputy in 2013.
Why did you want to work at the Livingston County Sheriff's Office (LCSO)?
Working for the Sheriff's Office allows me to serve in the entire county instead of being limited to the city limits only.
What do you do as chief deputy sheriff?
As Chief Deputy I serve as second in command of the office. Along with duties of a road patrol officer of answering calls for service, responding to traffic accidents, paper service, and other daily activities I also have administrative duties that included grant writing and reporting on several state and federal grants, assist with budgeting items, oversee the vehicle maintenance program on a daily basis which also includes the purchase and equipping of new patrol vehicles and removing vehicles from service, scheduling of deputies, court security, assisting with interviewing, hiring, and training of new deputies, setting up training for deputies during the year, communications coordination with DPS for MOSWIN radio operations and programming, serve as the vice president of the Crisis Intervention Counsel.
What do you most enjoy about your job?
Helping others and attempting to make a difference in my community.
`What motivates you?
Just being able to make a difference each day. As law enforcement we deal with people at times that are at the lowest point in their life or have a major event in life and just being able to make a difference to that person.
Why have you remained with a local agency for the majority of your career when you could make so much more money elsewhere?
I grew up in Chillicothe and wanted to work and serve in the community I call home.
How do you see yourself in helping other officers grow and learn skills?
I have been a Field Training Officer for approximately twenty years helping training new officers beginning employment with the agencies I have worked for. In 2015 I was the site coordinator for the Missouri Sheriff's Association Law Enforcement Academy in Chillicothe and enjoyed directing the eleven month academy.
What are some of the most troubling things in your job?
The things that first responders see that can't be unseen. As first responders we see things at the worst a lot of the time and that does not end at the end of a day at a scheduled time off. Another is staffing. Loosing good quality officers to other professions due to better pay somewhere else.
What worries you most in your job?
The increasing violence, drugs, and criminal activity that seems to be growing not only in our own communities but also nationwide.
If you could change anything job related what would that be?
Officer pay and benefits. My belief if that all first responders are under paid for the expectations and requirements demanded with the positions.
What do you think the biggest misconception is about law enforcement officers/agencies?
I feel that our community has a pretty good relationship between the community and law enforcement, but nationwide law enforcement has become scrutinized due to the actions of a few. I feel that the majority of law enforcement officers are good, honest, hard-working people who have taken the oath of service and protection and come to work each day striving to serve and protect the communities they live in. Just like in every profession there are people that should not be in that profession and I feel that the biggest misconception about law enforcement is that the hard working officers get grouped in with the officers that have no business being in the profession. We are all human and officers have sometimes seconds to make decisions that can be life changing decisions and then they have to live with those decisions based on what information they have at the moment they make those decisions.
How do you best help citizens and the community?
To try to handle every encounter with citizens and community with professionalism and understanding to the best I can.
What kind of goals do you have for your career and personal life?
Complete my law enforcement career working in Livingston County.
---
We hope you enjoyed this short article and we look forward to sharing more with you next month. Remember we are here to help you, your family and your friends. Stay cool and enjoy each day.
Sheriff Steve Cox