Get to Know Your LCSO-Captain Sindy Thomas
07/27/2022
We want the public to know us and have understanding of what kind of work we do at your sheriff's office. Last month we shared a lot of information about Chief Deputy Michael Claypole. This month I would like to share information about literally the most vital person and position at the Livingston County Sheriff's Office (LCSO), being Captain Sindy Thomas who also is our office manager. Captain Thomas has a vast amount of knowledge with the daily operations and all aspects of the LCSO including emergency dispatching and jail operations. We will ask Captain Thomas a variety of questions so you can better understand her job and the overall requirements of the LCSO:
Meet Captain Sindy Thomas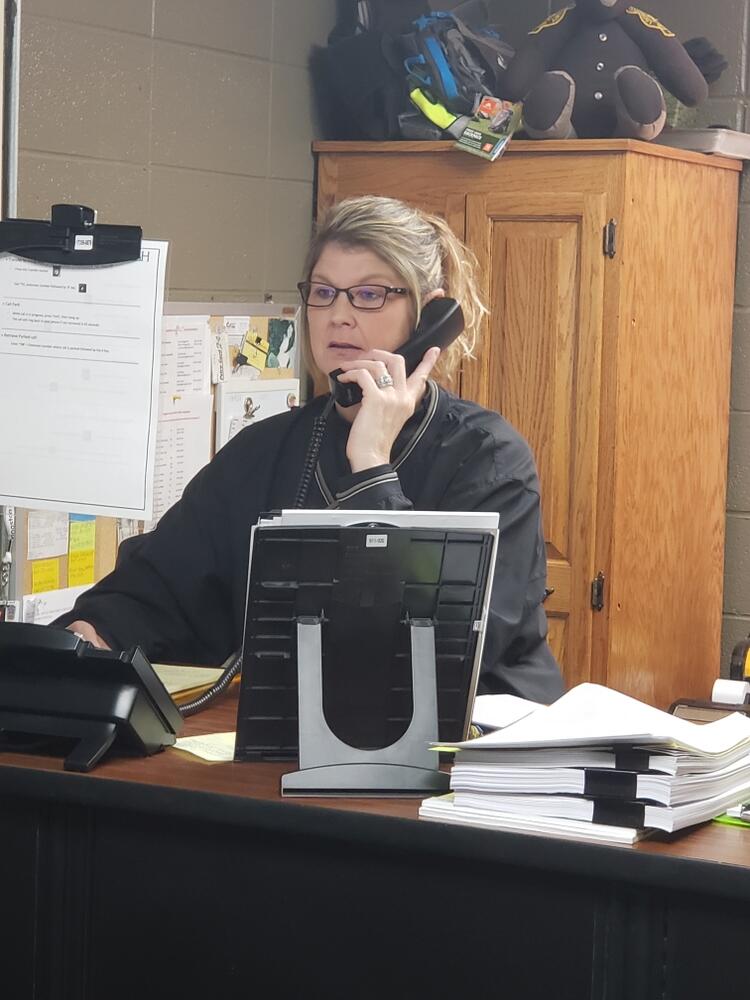 When and why did you get into law enforcement? I first started part-time in November 1991 working for Sheriff Leland O'Dell and became a full-time employee February 1992. My initial plans upon graduation of high school was not to be involved in law enforcement. When the opportunity came up and knowing many people who worked at the sheriff's office I thought I would apply.
Please explain your work history in law enforcement? I began working part-time helping in the sheriff's office and when Hazel Doss, who was the office manager for Sheriff O'Dell, decided to retire I became the full-time secretary. Not long after that I attended the Law Enforcement Academy at the Missouri State Highway Patrol Training Academy in Jefferson City and became a sworn deputy sheriff assigned as office manager. I continue helping deputies with a variety of duties, handle incident reports, answering phones, working in the jail and helping with 911 dispatch.
Why did you want to work at the LCSO? I thought it would be interesting and would learn lots of different things. I worked part-time at an attorney's office prior to applying at the LCSO and knew most everyone that worked there. Several sheriff's office employees encouraged me to apply, I did, was hired and plan to retire here. I like to stay busy and I figured this job would definitely keep me busy.
What do you do as Captain and Office Manager for the sheriff's office?
Sheriff Cox was in office when I was later promoted to the rank of Captain and my duties have continued to grow over the years due to increasing state and federal requirements.
We do not have a physical jail here in Livingston County but I work closely with the sheriff and we basically operate the jail from within our office here. For both criminal investigations and jail management we are very frequently communicating with the Daviess Dekalb Regional Jail, the Courts, Probation and Parole, Missouri Department of Corrections, and law enforcement agencies across the United States on criminal, fugitive and prisoner issues, Courthouse offices, then we have extraditions to organize and execute. We have many civil and court papers the sheriff's office is responsible for serving, posting, make returns to the court or adhere to other court directives.
What do you most enjoy about your job? Helping protect and serve people and helping make sure our deputies go home every night to their families.
What motivates you? Positive and energetic people. When around people like that is it easy to be motivated and accomplish many things.
Why have you remained with a local agency for the majority of your career when you could make so much more money elsewhere? This office is my family and there is no money that could replace the friends/family I've made while working for LCSO. I fully intend to retire here and leave whenever Sheriff Cox retires from office.
What are some of the most troubling things in your job? Seeing what happens to kids, what drugs are doing to our community, the life-long consequences of bad life choices people often make and continual worry about the safety of our law enforcement and citizens in bad situations. And the people struggling with various aspects of their lives that could have been completely avoidable.
Care to share with the public some of your education and training? I have a Missouri Peace Officers License through POST, I have received significant training with firearms, court, investigations, Concealed Carry, and many other courses dealing with law enforcement. I have received jail operations/management training and dispatch training. POST requires a minimum of 24 hours continuing education each year so there is always plenty to do.
How have things changed in your position from when you worked for Sheriff O'Dell until now? Many things have significantly changed such as pay, how records are kept, records management, booking/releasing detainees, the average daily population of jail detainees, calls for service and work load and investigations and investigation requirements. Add a lot more stress and responsibility in making sure this office runs smoothly daily and that we can most efficiently help people and other agencies.
What is the hardest part of your work? Knowing that you can't help people unless they want to help themselves. Dealing with death and threats.
What, if anything would you change that is job related? More funding for salaries for all our staff, more useful equipment and software. I wish the media and some people could learn that our job is extremely stressful, demanding, and we are not the bad people in society.
Please describe what you most enjoyed seeing in your work? Probably seeing citizen's reactions from our Secret Santa program.
What do you think the biggest misconception is about law enforcement officers/agencies? That we are racist, corrupt, and only want to put people in jail or prison. Our team here is anything but the above.
How do you best help citizens and the community? Figuring out how to help them. We have so many things we can do or ways to help. We work on giving people the information and tools to help with their life.
If you could change one thing about your work what would it be? Have a drug free society.
What are your thoughts on having a jail here as compared to holding detainees at Daviess Dekalb Regional Jail? It is a huge responsibility to have a jail. The staffing and salaries are areas of major concern for having a jail. There is good and bad with the options we have currently. On the other side of it, this county cannot afford to have and properly staff and operate a jail facility without a lot more tax money. I/we dislike seeing people have to travel to DDRJ to pick-up or visit their family or friends in person.
What do you enjoy doing in your off-duty time? Spending time with my family and being outside.
What kind of goals do you have for your career and/or personal life? To continue doing what I do now and ultimately retire from my one and only full time job and train the person who will eventually be replacing me.
---
The LCSO Jail has been closed since December 2012 and we primarily hold detainees at Daviess Dekalb Regional Jail in Pattonsburg. The LCSO basically operates the jail for our detainees from inside the LCSO here as we have multiple statutory requirements to fulfill. We are constantly reviewing, filing, sharing and tracking court and detainee documents, detainees, and transports. We are actively involved in the daily operations of the jail for Livingston County and City of Chillicothe detainees and communicate frequently with DDRJ and the Courts.
In closing, Captain Thomas is an excellent leader, problem solver, promotes team work, and is a tremendous asset for the citizens of Livingston County. Please tell her "thanks" when you see her.
We hope you have enjoyed this article.
Respectfully,
Steve Cox