Get to Know Sgt. Dustin Woelfle of the LCSO
09/27/2022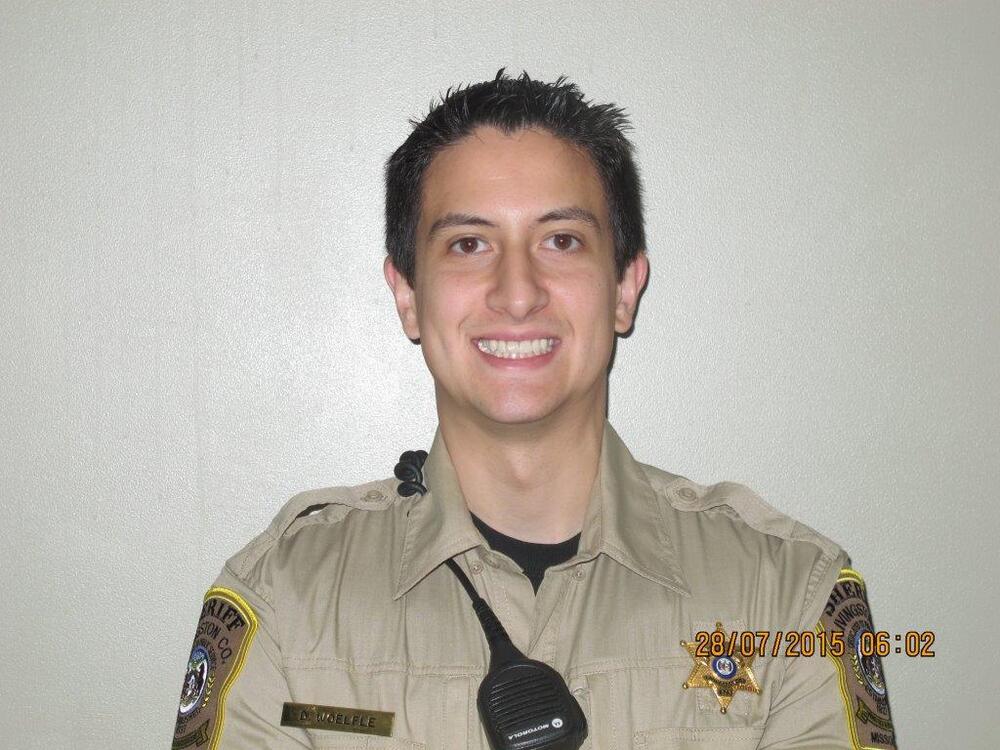 Sgt. Dustin Woelfle
As your sheriff, I would like everyone to know our employees and understand more about their job, motivations, and commitments to our county and communities.
We have previously shared information about Chief Deputy Michael Claypole and Captain Sindy Thomas. This month we want to spotlight Sergeant Dustin Woelfle who is an extremely valuable member of the Livingston County Sheriff's Office (LCSO) and does an outstanding job each day.
Questions and answers with Dustin Woelfle:
When and why did you get in Law Enforcement?
I got into law enforcement in 2014 by being accepted into the Missouri Sheriff's Association Training Academy and graduating from there in 2015. I was then employed with the Livingston County Sheriff's Office in July 2015 until present day. I decided on a career in law enforcement through a desire to help people and make a positive impact in the community.
What caused you to lean toward being a deputy sheriff versus a municipal police officer or a state trooper?
I prefer working as a deputy as it offers the greatest range of job duties of the three distinct groups, especially in a smaller agency such as ours where we ourselves are responsible for nearly every aspect of our daily job requirements. For example, I can be the initial point of contact on an arrest, investigate the arrest, process the arrest, transport the arrest, and even see the arrest through in a court setting. Additionally, I enjoy having the freedom of patrolling the entire 539 square miles of our county as opposed to be limited by city limits or major highways. I also was fortunate enough to work with several Livingston County employees while still in training so I had a good idea I would be joining a great office.
What is different about being a deputy sheriff as compared to a police officer or state trooper?
One key difference is there are many times our backup is several miles or even up to 20-30 minutes away which creates the need for a higher level of self-sufficiency and higher situational awareness in any event we may deal with. I can travel many, many miles especially during the early morning hours while on patrol in our county without seeing anything beyond wildlife near the roadway.
Please tell us about what you do as a sergeant for the LCSO?
As a sergeant for the L.C.S.O., I oversee our 7 full-time deputies as the first line supervisor and review reports as well as activities. I also assist as a Field Training Officer for new deputies and manage the evidence for our office.
Would you please share some things which you have been really proud of during your career?
Without getting specific, I am very proud of many of the investigations I have completed which resulted in convictions in our court system. I take a lot of pride in my work and try my hardest to best serve Livingston County and the State of Missouri.
Can we learn some of the more difficult things you have experienced during your career?
Once more, without being specific, anytime I have had to deal with the passing of anyone is always incredibly difficult. It is also difficult seeing people struggling with addiction to narcotics which unfortunately is a very common problem in the world today.
How do you deal with the excessive stress of the job?
I primarily deal with the stresses of law enforcement through physical activity which offers the additional benefit in ensuring I can perform my job at the highest level when needed. I spend a lot of time at our local YMCA.
What are some fun things with your job?
I really enjoy doing community activities especially being involved with area schools through programs such as Partners in Education. I think law enforcement involvement with our children should be a high priority. I also enjoy making contact with citizens while on patrol and talking to them about their questions and concerns.
If you could do one thing to make things different in society, what would that be?
If it comes down to one item, I would say I wish our society wasn't so divided on everything. I believe we have become to tribalistic and need to get back to a place where everyone can take care of each other again with an emphasis on reasonableness and common sense.
Do you have any advice for anyone considering a law enforcement career?
Be prepared to deal with everyone and everything. Law enforcement in today's world is required to deal with an extraordinarily wide array of issues. Will you be expected to deal with someone in a mental health crisis? Yes. Will you have to pull several cars over each day and coach people on their driving? Yes. Will you have to notify a family at some point that their family member has passed away? Yes. Will you have to make a split second decision on how to handle a dangerous situation while considering the safety of everyone involved? Yes. I can go on and on with these examples and still forget to mention everything. You will also be judged on how you handle all of these issues regardless of how long you have prepared to deal with them.
What kind of goals do you have?
My primary goal is to have a safe, long and productive career in law enforcement and continue serving the community.
Regarding work related training, is there an area or class which really stands out as your favorite? If so, can you share that with us and why?
Emergency Vehicle Operations was great, I am a very defensive driver and it definitely pushed me to my limits and allowed me to know what my vehicle is capable of while being safe at the same time.
Care to share the least favorite part of your job?
My least favorite part of my job is definitely covering the metal detector at the courthouse.
What are some of the biggest criminal issues you see in and around Livingston County?
I would say our biggest issue is still Methamphetamine addiction, with Fentanyl coming in second as it is slowly becoming more prevalent in the area.
Does Livingston County and the State of Missouri have the resources available for both law enforcement and citizens?
No.
Please explain: Pay and staffing. No one in law enforcement chose this career to make a lot of money, which also goes for several other institutions including teachers, mental health professionals and corrections among others. These positions are often held in high regard in our society but rarely with the pay to match. As I mentioned in the previous question, addiction and illegal drug distribution is a major issue and the staffing increases in the aforementioned fields would assist in combating these issues.
Would you like to seek the office of sheriff in the future? If so, why?
I think that is a possibility I would consider as I gain more experience. I would like to continue our Office's great reputation with Livingston County and believe I will continue to work and learn to be well suited to do so.
Any closing comments?
I thoroughly enjoy my career and look forward to many more years in law enforcement in Livingston County.
---
We appreciate your time in reading this article and encourage you to give Sgt. Woelfle a "Thank You" when you see him. We really enjoy having him as a leader on our TEAM.
Be safe,
Sheriff Steve Cox