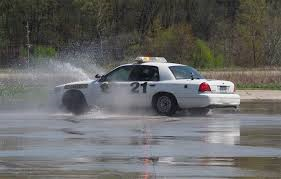 (photo courtesy of the MSHP Training Academy)
Deputy Nicholas Leadbetter recently received a weeks-worth of intensive driving and pursuit driving skills and enhanced training.
Deputy Leadbetter attended the Missouri State Highway Patrol Training Academy's Emergency Vehicle Operations Course. The training consists of class room and all types of driving on the MSHP training track.
Students learn all types of information about vehicles, weight shift, breaking, acceleration, and emergency vehicle operations under all types of conditions and stress. The week long course also includes some night time driving.
All LCSO deputies attend advanced vehicle operations course(s) to better protect them and all other motorists during job performance.
---