Archive: April 2014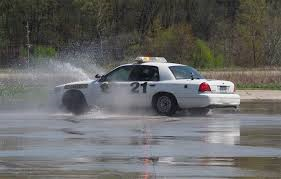 (photo courtesy of the MSHP Training Academy)
Deputy Nicholas Leadbetter recently received a weeks-worth of intensive driving and pursuit driving skills and enhanced training.
Deputy Leadbetter attended the Missouri State Highway Patrol Training Academy's Emergency Vehicle Operations Course. The training consists of class room and all types of driving on the MSHP training track.
Students learn all types of information about vehicles, weight shift, breaking, acceleration, and emergency vehicle operations under all types of conditions and stress. The week long course also includes some night time driving.
All LCSO deputies attend advanced vehicle operations course(s) to better protect them and all other motorists during job performance.
---
April 09 Deputy Chris Mueller, Captain Sindy Fitzpatrick and Detective Eric Menconi received training from the Missouri Sheriffs Association Training Academy on Outlaw Motorcycle Gangs. The instructor is highly respected and extremely knowledgeable of these types of gangs in the Midwest and in rural Missouri.
The training from free to the LCSO as we are members of the Missouri Sheriffs' Association.
---
Technology and Kids, Keeping Your Family Safe
In this presentation scheduled between 90 and 120 minutes is an overview of the most typical crimes perpetrated against minors and children over the Internet. As such we will discuss some of the most common sites where kids can be victimized and some of the challenges law enforcement faces. We will also discuss some of the special challenges cellular telephones and hand held devices present to parents and law enforcement.
We will also discuss pornography on the Internet as well as the epidemic of child pornography in the US and Missouri. Sexting and Cyber bulling and why they damage so many families, Child Enticement and how these crimes relate to social media. We will also discuss steps parents should take when allowing their children to use technology and prevention measures to help keep our children and families safe from Internet predators.
This presentation will be instructed by Detective Andy Anderson of the Boone County Sheriff's Department currently assigned as the coordinator / supervisor of the Cyber Crimes Task Force.
Date & Time: May 6th, 2014 6:00 p.m. to 8:00 p.m.
Location: Ketcham Community Center - North Central Missouri College
Cost: FREE OF CHARGE
This class is being sponsored by the Green Hills Citizens Advisory Board – Probation & Parole in cooperation with the Trenton Police Department and the Grundy County Sheriff's Department.
---
Help Locate 2 Missing Dogs for Area Family
Missing April 01, 2014 from Webster and Dickinson Street area:
Black long haired female dog wearing two collars with one being green in color.
Red Basset male dog weighing about 80 pounds and wearing a collar that is brown and green in color.
If you see either of these pets please call the LCSO at 660-646-0515 or the Chillicothe Police at 660-646-2121 and the owners will be notified.
Your help is appreciated.
---