Archive: August 2014
***IMPORTANT NOTICE***
***POTENTIAL SCAM WARNING***
Kelly Christopher, Recorder of Deeds and Steve Ripley Assessor
Warn Property Owners to be Wary of Mail Offers
For Copies of Deeds and Property Assessment Information
Once again another company is trying taking advantage of Livingston County citizens. Livingston County Recorder of Deeds Kelly Christopher and Livingston County Assessor Steve Ripley urge county residents to be wary of mail offers to provide copies of legal documents.
Local citizens contacted Kelly Christopher, Recorder of Deeds, about a private company's offer to provide copies of deeds and property assessment profiles to home owners for an excessive fee. The California based company has mailed the offer to residents of Livingston County. The Recorders' and Assessors' Associations of Missouri have previously contacted the Missouri Attorney General's office regarding these type of offers from companies.
Property owners in the area have received a letter offering a copy of their grant deed and property assessment profile for $83.00 or more. These companies simply contact local offices to obtain the documents then turn around and mail it to the homeowner while charging them the higher fees.
Christopher said most property owners obtain their original property deed when their property is purchased. If additional copies are needed, they may be obtained directly from the County. County fees are $1 per page; most property deeds are no more than one or two pages long. Property assessment information is available for 25₵ per copy.
"I am concerned about companies trying to take advantage of our citizens by not being truthful. If anyone receives one of these letters and would like a copy of their deed or assessment information, I urge them to ignore it and contact the Recorder's or Assessor's Office", stated Christopher.
For information or to obtain a copy of your property deed or assessment information, you may visit the Livingston County Courthouse at 700 Webster St., Chillicothe, Mo, or call the Recorder's Office at (660) 646-8000 ext 6 or the Assessor's Office at (660) 646-8000 ext 2.
---
To view the Eagles Nest report for August 23, 2014 from Bishop Hogan Memorial School please CLICK HERE.
---
Missouri Sheriffs' Association President Kevin Bond has appointed Sheriff Steve Cox to the MSA's Legislative Committee which is chaired by Grundy County Sheriff Rodney Herring. Sheriff Cox was also appointed to MSA's Membership and Media Committee which is chaired by Dallas County Sheriff Mike Rackley.
Sheriff Cox previously served on the MSA Executive Board of Directors and was the 2010 MSA President.
---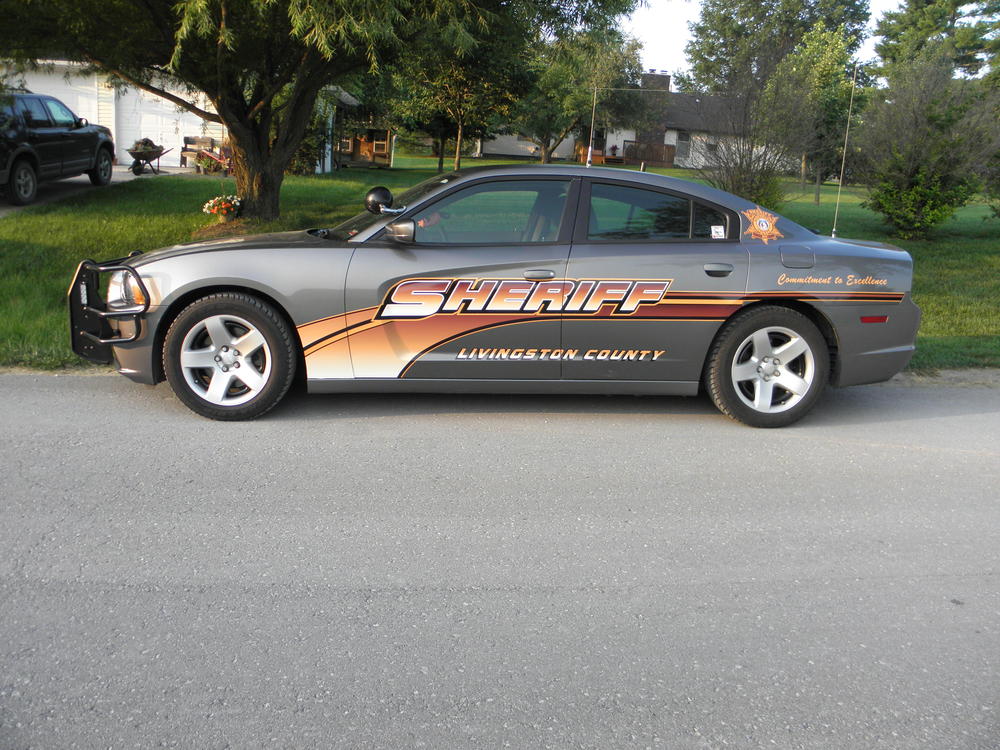 These are pictures of the most recent patrol car we added to the Livingston County Sheriff's Office Road Patrol. This is a 2012 Dodge Charger Police Package which was purchased in March 2014 and put into service in May 2014 after being properly equipped.
The used vehicle was bought from the Missouri State Highway Patrol and had approximately 55,000 miles at the time of purchase. We have added the necessary equipment and assigned this patrol vehicle to Deputy Chris Mueller as the primary driver.
The LCSO road patrol are assigned vehicles as we are a small organization and depend on all our road patrol when a serious emergency occurs which provides for a much timelier and effective response to any situation.
The LCSO had a demonstrated need for the newer patrol vehicle due to excessive mileage and mechanical issues.
The used MSHP Patrol Car cost approximately $15,750 but $8,999 of that cost was covered by a Local Law Enforcement Block Grant we had received.
---